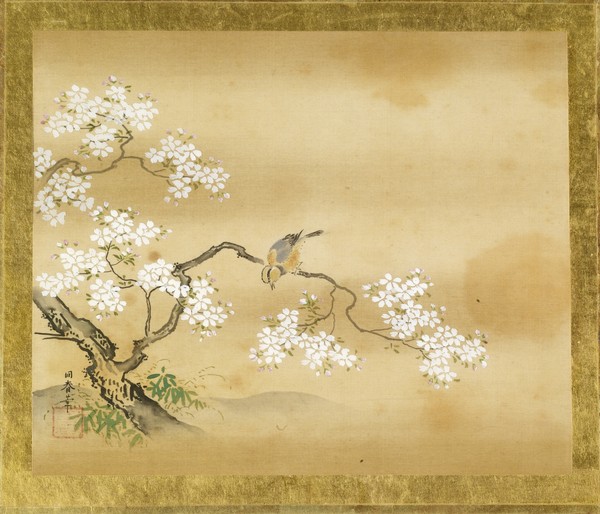 Muntanya de cirerers - Taikan Yokoyama
"Carpe diem, quam minimum credula postero." (En una traducció aproximada, "Aprofita el moment, i poc confiïs en el que vindrà"). Aquesta frase, sobretot la primera part, carpe diem, ha arribat fins als nostres dies amb un significat diferent del que tenia inicialment; el fem servir com una consigna hedonista que convida a viure el plaer immediat sense pensar en les conseqüències, mentre que el significat original faria referència a no malbaratar el que ens ofereix el present perseguint un futur incert.
Si començo parlant d'aquesta citació d'Horaci, és perquè he trobat diverses fonts que identifiquen el tema del poema d'aquesta setmana amb el carpe diem, però a mi em sembla que aquests versos tenen un significat diferent:
Loveliest of trees, the cherry now
Is hung with bloom along the bough,
And stands about the woodland ride
Wearing white for Eastertide.
Now, of my threescore years and ten,
Twenty will not come again,
And take from seventy springs a score,
It only leaves me fifty more.
And since to look at things in bloom
Fifty springs are little room,
About the woodlands I will go
To see the cherry hung with snow.
L'arbre més encantador, el cirerer,
té ara les branques cobertes de flors,
i s'alça a prop de la sendera del bosc,
vestit de blanc en el temps pasqual.
Ara, dels meu setanta anys,
vint ja no tornaran,
i si trec una vintena de les setanta primaveres
només me'n queden cinquanta.
I com que per mirar les coses en flor
cinquanta primaveres és poc de temps,
recorreré el bosc
per veure el cirerer cobert de neu.
Un jove de vint anys cavalca pel bosc i s'atura a contemplar la bellesa d'un cirerer florit, un esclat de flors sobre les branques nues que només durarà uns dies. Reflexiona que passarà tot un any abans no pugui tornar a gaudir-ne, i que per anys que visqui, no seran prou per sadollar-se'n. Per això es proposa de tornar cada hivern al bosc per gaudir també de la bellesa de les branques del cirerer cobertes de neu. Jo diria que aquests versos ens conviden a aprofitar el moment, sí, però sobretot ens convida a gaudir de la bellesa cada dia de la nostra vida. O potser el que ens diu és que aprenguem a reconèixer la bellesa més amagada? O bé que visquem posant-hi els cinc sentits? Què us suggereixen a vosaltres?
Vaig compartir aquest poema d'A. E. Housman, Loveliest of trees (el segon de la col·lecció A Shropshire Lad), fa molt de temps, el 10 de maig de 2012, i vam escoltar la versió tan bonica com desconeguda del compositor americà John Duke; tenia la intenció de publicar més endavant la versió de George Butterworth i, ja veieu, han passat nou anys. El blog tenia llavors només tres mesos i les entrades eren molt curtes (o potser ara són massa llargues, ves a saber); vaig parlar d'un aspecte del poema que m'havia intrigat, per què el jove pensa que viurà setanta anys (és una referència bíblica), però no vaig mencionar un altre detall que encara em crida l'atenció, la referència al temps pasqual a la primera estrofa.
El temps pasqual són els cinquanta dies que van des del Diumenge de Resurrecció fins al de Pentecosta; com que la Pasqua de Resurrecció és el primer diumenge després de la primera lluna plena de la primavera, com a molt aviat és el 22 de març. Diria que, amb el nostre clima, els cirerers floreixen abans del temps pasqual, almenys jo associo la florida amb el final de l'hivern. Quan floreixen els cirerers, a Shropshire? O potser la referència és una llicència poètica que fa al·lusió a la joventut o a la renovació de la vida?
El dia que vaig publicar aquella entrada el 2012 encara faltaven més de dues setmanes per a la Pasqua Granada, érem dins del temps pasqual. Aquesta vegada he fet tard, per dos dies; vaig fer un canvi en l'ordre dels articles de la llibreta i vaig badar; igualment, però, escoltarem Loveliest of trees, i ho farem en la versió de Butterworth, que per a mi és LA versió; sempre que veig un cirerer florit sento al meu cap les paraules Loveliest of trees amb la seva música. El primer cop que vaig escoltar la cançó va ser en el memorable recital de Bryn Terfel i Malcolm Martineau al Liceu l'any 2001; avui us comparteixo l'enregistrament que van fer tots dos artistes per aquella època. Que gaudiu de la bellesa, avui i cada dia.
Loveliest of trees
Articles relacionats