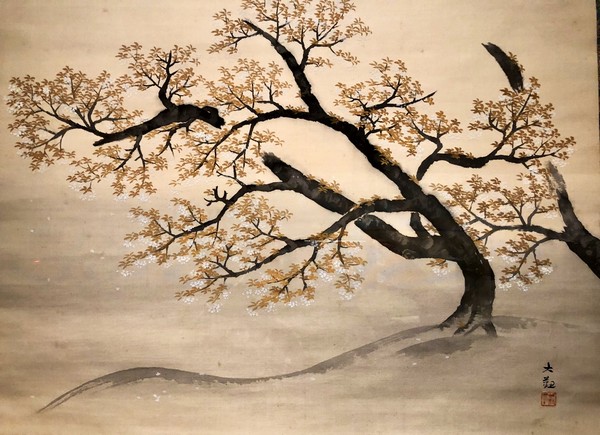 Cirerer a la muntanya - Yokoyama Taikan
Per a l'entrada d'avui no he triat una cançó, he triat un poema. De vegades, quan escolto una cançó em criden tant l'atenció les paraules que busco si n'hi ha més versions per veure com les han interpretat els diferents compositors. Això em va passar amb
Loveliest of trees
(L'arbre més encisador), que vaig conéixer en la versió de George Butterworth.
El poema, publicat el 1896 per Alfred Edward Housman, parla de la necessitat d'aprofitar totes les ocasions per gaudir de la bellesa, perquè la vida és massa curta per contemplar-ne tanta com hi ha al món. Qui fa aquesta reflexió no és una persona gran que mira al passat sinó un noi de vint anys que s'adona que el temps que li quedi per viure no serà prou. I quan de temps li queda per viure? M'intrigava la seva estimació, cinquanta anys, fins que vaig trobar aquesta cita bíblica:
The days of our years are threescore years and ten;
and if by reason of strength they be fourscore years,
yet is their strength labour and sorrow;
for it is soon cut off, and we fly away.
Ni que visquéssim setanta anys,
i els més forts fins als vuitanta,
al capdavall, són de fatigues inútils,
s'escolen de pressa, i ens en anem volant.
(Salms, 90,10)
El jove sap veure la bellesa del cirerer florit a la primavera, això ho pot veure qualsevol, però sap veure també la bellesa de les branques nues cobertes per la neu, sap veure la bellesa més evident i la més subtil, la de la joventut esclatant i la de la vellesa.
No sóc gaire original en haver-me sentit atreta per aquest poema, se n'han escrit més de vint cançons si comptem només les de veu i piano, i és que, com anirem veient en d'altres entrades, Housman és un dels poetes en llengua anglesa més cantats, especialment el seu recull de poemes
A Shropshire Lad
(Un noi de Shropshire) al qual pertany el que escoltarem avui.
La versió de
Loveliest of trees
que us proposo no és la de Butterworth que us comentava abans sinó la de John Duke, pianista i compositor nordamericà que va viure en ple segle XX, entre 1899 i 1984. Escrita el 1929, no és tan coneguda (almenys a Europa) però també m'agrada i és una bona excusa per conéixer Duke. La interpreta James King; no us puc dir qui l'acompanya al piano perquè no ho he sabut trobar.
Loveliest of trees
Loveliest of trees, the cherry now
Is hung with bloom along the bough,
And stands about the woodland ride
Wearing white for Eastertide.
Now, of my threescore years and ten,
Twenty will not come again,
And take from seventy springs a score,
It only leaves me fifty more.
And since to look at things in bloom
Fifty springs are little room,
About the woodlands I will go
To see the cherry hung with snow.
L'arbre més encantador, el cirerer,
té ara les branques cobertes de flors,
i s'alça a prop de la sendera del bosc,
vestit de blanc en el temps pasqual.
Ara, dels meu setanta anys,
vint ja no tornaran,
i si trec una vintena de les setanta primaveres
només me'n queden cinquanta.
I com que per mirar les coses en flor
cinquanta primaveres és poc de temps,
recorreré el bosc
per veure el cirerer cobert de neu.