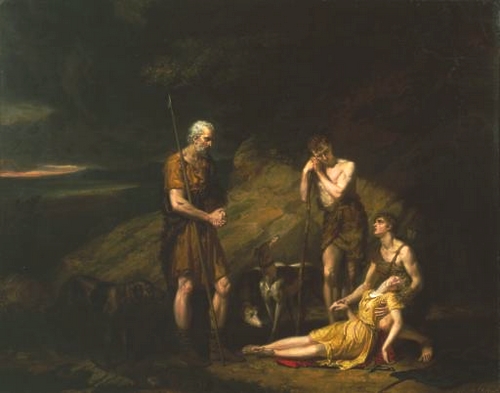 Imògena descoberta a la cova de Belari - G. Dawe
Us agrada Shakespeare? A mi sí, molt. Vaig començar amb
Hamlet
fa una pila d'anys i fins avui. Reconec que més d'un cop faria una cleca a algun personatge, oblidant que ens separen quatre segles, però la seva manera de fer anar les paraules ho compensa tot. Shakespeare era principalment home de teatre així que és lògic que hagi triomfat a l'òpera; també és lògic que no el trobem tan sovint a la cançó i quan l'hi trobem és, sobretot, a cançons compostes a partir de les cançons incloses a les obres de teatre, com les del salze de Desdèmona a
Otel·lo
o les de Festa a
Nit de Reis
. Vam començar l'any precisament amb un dels
poemes de Festa
, avui escoltarem una altra cançó amb versos de Shakespeare i a la llibreta en tinc apuntada alguna més. Perquè som en ple Any Shakespeare; enguany es compleixen 400 anys de la seva mort i, tot i que penso que no cal redescobrir-lo, sempre és un plaer llegir-lo, rellegir-lo i celebrar les seves paraules.
Avui l'homenatjarem amb una preciosa cançó composta per un compositor britànic que s'estrena a Liederabend, Gerald Finzi; un altre dia hi tornarem i parlarem una mica més de la seva obra però avui el protagonisme és pel poeta, no pel compositor. Els versos de
Fear no more the heat o' the sun
estan inclosos a
Cimbelí
, una obra de teatre escrita per Shakespeare a la seva última etapa, cap al 1609; a la mateixa època que
La tempesta
, per esmentar una obra més coneguda. En l'obra,
Fear no more the heat o' the sun
és un cant fúnebre cantat per dos nois a l'escena II de l'acte IV; no he llegit
Cimbelí
(encara) però crec que me'n sortiré explicant el context de la cançó.
Els dos nois i el seu pare han acollit un noi que han trobat, esgotat, arrecerat en una cova. Poc després troben el noiet mort; llavors el porten al bosc, el cobreixen de flors i l'acomiaden amb la cançó que escoltarem. Potser esteu pensant que hagués estat més correcte enterrar-lo abans de cobrir-lo de flors però encara sort que no ho fan perquè el noiet no està mort, només ho sembla perquè s'ha pres un beuratge que la seva madrastra li ha donat amb la pitjor de les intencions. El noiet és en realitat una noia, Imògena, filla del rei Cimbelí, que es vesteix de noi per salvar la seva vida. Però no fuig de la seva madrastra, no és conscient d'aquesta amenaça, sinó de Pòstum, el seu marit. Resulta que aquesta bona peça ha acceptat l'aposta d'un altre cavaller (és un dir) que aquest li portarà proves de la infidelitat d'Imògena. Les proves que presenta són falses però Pòstum en té prou per ordenar de matar Imogènia; el botxí no té cor per fer-ho i ajuda la noia a escapar, disfressada de noi. I llavors és quan els dos nois (que no ho saben, però són els germans d'Imògena) la troben a la cova i l'acullen. Unes quantes pàgines després es resolen tots els equívocs d'aquesta obra que ens fa pensar en
Così fan tutte
,
Blancaneus
i
Otel·lo
i, increíblement, Imògena i Pòstum són feliços i mengen anisos.
Fem un salt d'uns quants segles fins el 1929, quan Gerald Finzi escriu la seva cançó. Entre 1938 i 1942 en va escriure quatre més, totes amb textos de Shakespeare, entre elles dues de les quals hem sentit altres versions:
Come away, death
i
Who is Silvia
. Aquest cicle,
Let us garland bring
(el nom és el darrer vers de
Who is Silvia
) es va estrenar el 12 d'octubre de 1942 en un concert homenatge a Ralph Vaughan Williams, que complia aquell dia 70 anys; la setmana següent se'n va estrenar la versió orquestral.
Us deia que
Fear no more the heat o' the sun
és una cançó preciosa; ja sé que faig servir sovint aquest adjectiu però si puc triar no posaré cançons que no m'agradin molt! I amb textos de Shakespeare n'hi ha moltes per triar. Finzi dóna a les tres primeres estrofes un tractament musical molt similar; després de la tercera l'interludi és més llarg i pren un caràcter més dramàtic, gairebé sembla que el compositor no ha fet servir la quarta estrofa i la cançó acabarà així. Però no, finalment arriba la quarta estrofa, que comença declamada i recupera la melodia present a tota la cançó als dos darrers versos.
No hi ha gaire enregistraments de la versió amb acompanyament de piano però he tingut problemes per triar perquè m'agraden gairebé totes. Al final he triat per compartir amb vosaltres la de Bryn Terfel i Malcolm Martineau, espero que us agradi.
Fear no more the heat o' the sun

Fear no more the heat o' the sun;
Nor the furious winter's rages,
Thou thy worldly task hast done,
Home art gone, and ta'en thy wages;
Golden lads and girls all must,
As chimney sweepers come to dust.
Fear no more the frown of the great,
Thou art past the tyrant's stroke:
Care no more to clothe and eat;
To thee the reed is as the oak:
The sceptre, learning, physic, must
All follow this, and come to dust.
Fear no more the lightning-flash,
Nor the all-dread thunder-stone;
Fear not slander, censure rash;
Thou hast finished joy and moan;
All lovers young, all lovers must
Consign to thee, and come to dust.
No exorciser harm thee!
Nor no witchcraft charm thee!
Ghost unlaid forbear thee!
Nothing ill come near thee!
Quiet consummation have;
And renowned be thy grave!
No temis més la roentor del sol
ni el rafegar furiós de la hivernada;
ja has acomplert la tasca al teu redol
i dins la llar, la paga t'és donada.
Joves daurats i noies de cor tendre,
com el baix parracaire, seran cendra.
No temis ja el tresor del prepotent,
i, del tirà, pots riure-te'n a lloure;
no maldis pel vestit ni l'aliment,
per tu la canya ja és igual que el roure.
Rei i metge, i qui més pugui comprendre,
aniran a parar com tu a la cendra.

No temis més la tralla del llampec,
ni el tro que a tots estamordia;
ni la calúmnia, ni el censor rosec;
tu has acabat els plors i l'alegria.
Tots els enamorats deuen emprendre
el teu camí i anar cap a la cendra.
Que cap bruixot no et faci mal a tu!
La bruixa aparti el seu encís de tu!
Que els espectres no hi tinguin res, amb tu!
Que res dolent no vagi prop de tu!
Que et puguis consumir tranquil·lament,
i famós sigui el teu enterrament!
(traducció de Josep Maria de Sagarra)