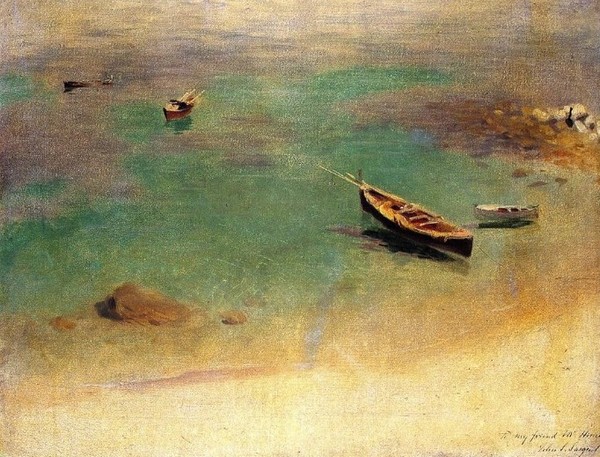 Una barca a les aigües de Capri - J. S. Sargent
Família i amics a banda, el que més trobo a faltar aquestes setmanes que ja són mesos és la música en viu i el mar. Sembla que alguna cosa comença a bellugar pel que fa als concerts, i ja m'he perdut i no sé en quina fase del desconfinament podrem anar a banyar; de moment, paciència, i continuem escoltant només música enllaunada i mirant imatges del mar. O podem fer totes dues coses alhora i escoltar una marina.
Estrenem cicle i compositor, Sea Pictures, d'Edward Elgar. Després del gran èxit que havia tingut el compositor als quaranta dos anys amb l'estrena de les Variacions Enigma el juny de 1899, el Festival de Norwich li va encarregar un cicle de cançons que havia de cantar la contralt Clara Butt, que amb només vint-i-set anys ja era una de les figures del moment. Elgar va compondre les Sea Pictures el juliol de 1899 i les va estrenar al festival el 5 d'octubre d'aquell any amb un gran èxit de públic. Aquell dia, a més, va haver-hi un detall que devia impressionar molt els assistents, perquè l'esmenten la majoria de publicacions que en parlen: la cantant, que amb el seu 1,80 m d'alçada tenia una presència escènica poderosa, va cantar vestida de sirena. No n'hi ha cap foto ni he trobat la descripció del vestit enlloc; em costa imaginar un vestit de sirena de l'època, però com devia ser perquè tingués tant de ressò!
A Norwich va estrenar-se la versió del cicle amb orquestra, dos dies després es va estrenar a Londres amb piano, també amb èxit de públic (les cròniques no diuen res de l'abillament de Clara Butt en aquesta ocasió), i les cançons no van trigar a fer-se populars. La crítica, però, no n'estava tan entusiasmada com el públic. De fet, no ho estaven gens, i a publicacions recents no se'n parla tampoc amb gaire passió.
A Elgar se li retreu que no era un compositor de cançons nat, i que, de la setantena que va compondre, la major part té un caràcter mundà, com si per a ell les cançons no fossin el refugi íntim que sol ser per a la majoria dels seus col·legues. Elgar és el compositor de més edat de la generació que va iniciar el que coneixem com a Art Song, i se li retreu que les seves cançons encara estaven marcades per l'època victoriana. Per força havia d'estar-ho, perquè és l'època en què va començar a compondre, ni que fos durant els últims anys; de fet, poc després de l'estrena a Londres del cicle, se'n va fer una interpretació privada per a la reina Victòria.
Una altra cosa que es diu també del compositor és que triava poemes mediocres per a les seves cançons. En el cas de les Sea Pictures, es dóna el cas que les cinc cançons tenen a més textos de cinc poetes diferents, així que ja us podeu imaginar què se'n diu: que al cicle li manca unitat, perquè l'única cosa que tenen en comú els poemes és que parlen del mar, amb aproximacions molt diferents.
La qüestió, però, és que aquesta disparitat dóna com a resultat un cicle molt variat, que em fa la sensació que fa felices les cantants. Tant hi trobem cançons molt llargues i elaborades, amb orquestracions que ens sonen fins i tot wagnerianes, com hi trobem cançons de caire més íntim o la delicada miniatura que escoltarem avui, In Haven (Capri) [Al port (Capri)], que ens parla d'un amor que el port protegeix de les tempestes. L'al·lusió a la petita illa de Capri al títol ens remet a uns paisatges mediterranis per a nosaltres ben familiars, però també, situats en el context de l'època, a un lloc que era igualment un recer, un port, per a alguns europeus que volien fer la seva vida sense ser jutjats (entre ells, el pintor John Singer Sargent, que il·lustra aquest article).
L'autora del poema era Alice, la dona del compositor, una font poètica a la qual Elgar va recórrer sovint. Dos anys abans ja havia escrit una cançó amb el mateix poema, publicada a una revista cultural, The Dome, el 1898. El juliol de 1899, el matrimoni hi va tornar; Alice va fer alguns canvis al poema, reordenant les estrofes i modificant alguns versos, i Edward la va orquestrar; així, aquell Love alone shall stay original va pasar a ser In Haven, la segona de les Sea Pictures. És la més breu de les cinc amb diferència. Són només tres estrofes de tres versos cadascuna, i la cançó és essencialment estròfica. La línia vocal es manté constant i l'orquestra es modifica subtilment a la segona estrofa i de manera més evident a la tercera. És una cançó tranquil·la i transparent; som a recer i les tempestes de les quals ens parla el poema no hi tenen cabuda; només hi sentim el calmat moviment del mar a port.
És una cançó molt bonica que escoltarem en un enregistrament de referència, el de Janet Baker i John Barbirolli dirigint la London Symphony Orchestra, de l'any 1965. Espero que us agradi i que us transporti a les aigües transparents que ens esperaran fins a qui sap quan...
In Haven (Capri)
Closely let me hold thy hand,
Storms are sweeping sea and land;
Love alone will stand.
Closely cling, for waves beat fast,
Foam-flakes cloud the hurrying blast;
Love alone will last.
Kiss my lips, and softly say:
Joy, sea-swept, may fade to-day;
Love alone will stay.
Deixa'm agafar-te estretament la mà,
tempestes baten el mar i la terra;
només l'amor resistirà.
Agafa't fort perquè les ones colpegen amb rapidesa,
flocs d'escuma ennuvolen les apressades ràfegues;
només l'amor perdurarà.
Besa'm els llavis i digues suaument:
joia, arrossegada pel mar, pot esvanir-se avui;
només l'amor romandrà.
(traducció de Salvador Pila)
Articles relacionats