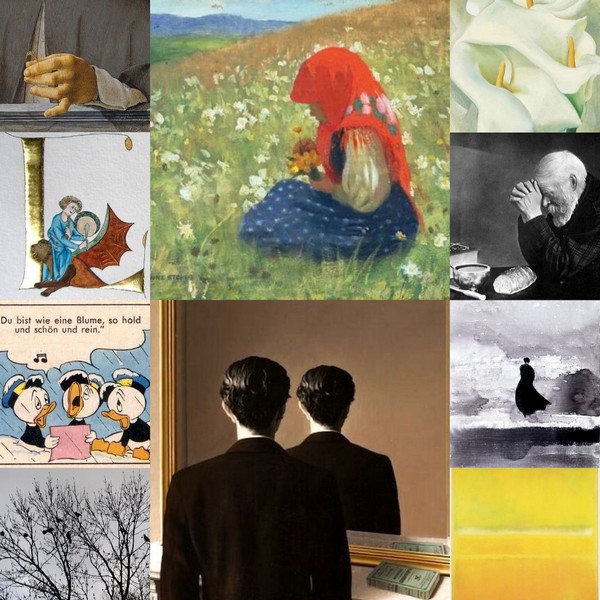 "Estàs preparant l'article sobre l'aniversari? El títol amb números, oi?" Verídic. Sí, demà passat farà sis anys que vaig publicar la primera entrada al blog; llavors Liederabend "només" era això, un blog més a la plataforma Blogger; el setembre de 2013 vaig començar a publicar també en anglès i el juny de 2014 vaig moure el blog aquest web, amb moltes més possibilitats tècniques. Moltes gràcies a tots per ajudar-me a fer créixer Liederabend i per celebrar aquest sisè aniversari amb mi.
Durant aquests anys (pels lectors més nous, aquestes són les xifres del títol), hem escoltat 332 cançons de 87 compositors diferents, amb poemes de 164 poetes. En les han interpretat 153 cantants acompanyats per 148 pianistes (en realitat, no ben bé; hi ha cançons amb acompanyament d'orquestra i alguna amb viola, guitarra, llaüt,.. No us criden l'atenció, les xifres? El nombre de cançons no és significatiu, el marca el ritme de publicació setmanal. Però el nombre de compositors sí que m'ho sembla; si seguim a aquest ritme, durant el setè any del blog arribarem pràcticament al centenar. I no és que em dediqui a regirar enciclopèdies i discoteques cercant noms nous, al contrari, hi ha llista d'espera. Per exemple, una de les cançons apuntades per al proper Nadal és d'un compositor que encara no hem escoltat mai. Els poetes i els pianistes no els trio jo, els trien els compositors i els cantants, i de cantants ja n'hem escoltat més de cent cinquanta, malgrat que n'hi ha uns quants (barítons) que acaparen moltes cançons. No està gens malament, quan estem parlant d'un gènere que per a molta gent està ferit de mort. Sobre els cantants, us haig de dir també que, per primera vegada, la majoria dels nous no són barítons, només ho són cinc de setze. I més sorprenent encara: d'aquests setze cantants, nou són dones! M'estaré guarint de la meva baritonofília i tendint cap a la sopranitis?
Volia haver començat una sèrie nova, però finalment no ho vaig fer perquè el calendari estava bastant atapeït amb la llarga sèrie dedicada a l'alfabet; ja hem arribat a la P i, si no hi ha canvis d'última hora, per quan arribi el proper aniversari ja l'haurem acabat. A més, hem tingut una altra sèrie breu però molt especial, una col·laboració amb el Màster en Lied de l'ESMUC: cinc alumnes de l'assignatura "Literatura del gènere. Repertori del lied alemany" van escriure un article per al blog; les teniu totes
en aquest enllaç
.
Hi ha una dada que no queda reflectida directament a les xifres del títol que m'ha fet rumiar, perquè no me n'havia adonat: de les cinquanta-dues cançons del darrer any, tres de cada quatre són en alemany. El motiu és clar: m'he passat l'any immersa en el lied en general i en Schubert en particular (per cert, felicitem-nos, avui fa 221 anys del seu naixement); primer, amb el curs a la llibreria La Central
"El lied, un gènere proper"
, després amb la primera temporada del
Schubert Lied
i el nou curs a La Central,
"Franz Schubert, compositor de cançons"
, això explica també que la meitat dels lieder que hem escoltat siguin del rei de la casa. Espero que em disculpeu si us he atabalat amb tanta cançó alemanya.
En principi, aquesta tendència canviarà aviat, perquè si tot va bé, d'aquí no gaire començarem un nou curs a La Central, dedicat a la cançó francesa i anglesa,
"De Fauré a Britten"
. Aquests dos compositors marquen un període ben definit, però si mireu el programa del curs veureu que dediquem també un temps a parlar de la cançó abans de Fauré i després de Britten. Seran només sis setmanes en total però, si hem de fer cas del que ens diuen els cursos anteriors, hi escoltarem vora cinquanta cançons, que aviat és dit. Tot un any de Liederabend.
Naturalment, l'últim dia de curs me les empescaré per parlar de Leonard Bernstein, serà un dels compositors americans. Avui l'escoltarem també aquí i ens afegirem així a la celebració del seu centenari. Escoltarem
When my soul touches yours
, un de les
Two Love Songs
que Bernstein va compondre a partir de dos poemes de Rainer Maria Rilke, fent servir la traducció a l'anglès que la poeta Jessie Lamont havia publicat el 1918 (ja és curiós que el primer cop que escoltem Rilke sigui traduït). Les dues cançons van ser escrites el febrer de 1949, i el compositor les va dedicar a Jennie Mourel, a qui havia dedicat també el cicle
I hate music
uns anys abans. La primera,
Extinguish my eyes
, la van estrenar unes setmanes després, el març d'aquell any, però la segona,
When my soul touches yours
, no ho van fer fins el 1963. El nom del petit cicle no enganya, són dues cançons d'amor, intents i apassionat; ens interpretaran
When my soul touches yours
Roberta Alexander i Tan Crone. Espero que us agradi!
When my soul touches yours

When my soul touches yours a great chord sings:
How can I tune it then to other things?
Oh, if some spot in darkness could be found
That does not vibrate when your depths sound.
But everything that touches you and me
Welds us as played strings sound one melody.
Where, where is the instrument whence the sounds flow?
And whose the magic hand that holds the bow?
Oh, sweet song, Oh!
Quan la meva ànima ressona amb la teva un gran acord canta:
com puc sintonitzar llavors amb d'altres coses?
Oh, si hi hagués cap lloc en la foscor
que no vibrés quan el més profund de tu sona!
Però tot el que ens commou a tu i a mi
ens uneix com a cordes fregades per tocar una melodia.
A on, a on és l'instrument del qual el so flueix?
I de qui són aquestes mans màgiques que sostenen l'arc?
Oh, dolça cançó!
I aquí teniu el poema original de Rilke, traduït al català per Salvador Pila:


Wie soll ich meine Seele halten, daß
sie nicht an deine rührt? Wie soll ich sie
hinheben über dich zu andern Dingen?
Ach gerne möcht ich sie bei irgendwas
Verlorenem im Dunkel unterbringen
an einer fremden stillen Stelle, die
nicht weiterschwingt, wenn deine Tiefen schwingen.
Doch alles, was uns anrührt, dich und mich,
nimmt uns zusammen wie ein Bogenstrich,
der aus zwei Saiten eine Stimme zieht.
Auf welches Instrument sind wir gespannt?
Und welcher Geiger hat uns in der Hand?
O süßes Lied.
Com podria retenir la meva ànima de forma
que no entrés en contacte amb la teva? Com podria
enlairar-la per dessobre teu envers altres afers?
Ai! De bon grat l'allotjaria dins quelcom
perdut en la foscúria,
en un lloc incògnit, tranquil,
que no tornés a sondrollar quan la teva part més profunda ho faci.
Però tot allò que ens toca, a tu i a mi,
ens aplega ensems, com el frec d'un arquet de violí
que de dues cordes fa sortir una sola veu.
En quin instrument ens trobem com fils tibants?
I quin violinista ens té a la seva mà?
Oh! dolça cançó.