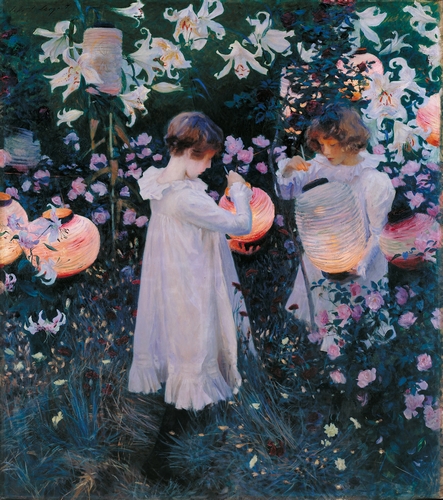 Clavell, lliri, lliri, rosa - J. Singer Sargent
Quan arriba el seu aniversari, la meva amiga A. sempre em demana que ho celebrem amb globus. Jo li dic que qualsevol dia em presentaré al restaurant o allà on sigui amb una dotzena d'enormes globus de colors, però ella no s'ho acaba de creure. Ja té raó, jo tampoc m'hi acabo de veure, entrant en un restaurant tant guarnida... Però "allà on sigui" pot ser aquí, i, com que aquesta setmana és el seu aniversari, aquesta setmana tenim globus. Sí, una cançó amb globus, per cortesia de Leonard Bernstein. Després no em creieu quan us dic que hi ha cançons per a totes les ocasions.
L'estiu de 1942, Leonard Bernstein es va traslladar a viure a Nova York. Tenia vint-i-quatre anys, era encara un desconegut i els seus ingressos venien de les classes que feia a cantants, d'arranjaments que li encarregaven i petites feines similars, que podia fer gràcies a un piano que li havia llogat Aaron Copland. Per estalviar, compartia pis amb una noia anomenada Edys Merrill, una noia que de vegades es desesperava perquè aquell piano sonava a qualsevol hora del dia o de la nit: "caminava pel pis amb les mans tapant-me les orelles i cridant: odio la música, la la la la la". Bernstein va escriure un breu cicle de cançons amb aquest títol,
I hate music
, i li va dedicar. Potser recordeu que fa uns mesos, quan us parlava dels "
programes estranys
" vam escoltar-ne la cançó central, que s'anomena també
I hate music
.
El cicle porta com a subtítol
A cycle of five kid songs
, cinc cançons que canta una nena que a la primera cançó ens diu que es diu Barbara i a la darrera,
I'm a person, too
(la que sentirem avui), que té deu anys. Els deu anys d'en fa setanta no són com els d'ara, i la Barbara és prou innocent com per preguntar-se a la primera cançó d'on vénen els nens, però també té les idees molt clares i reclama que la tractin com si fos gran, perquè ella també és una persona! Per evitar una possible tendència a l'afectació de les cantants, Bernstein va posar aquest missatge a la primera pàgina de la partitura:
En la interpretació d'aquestes cançons, hauria d'evitar-se sempre l'afectació. La dolçor natural i ingènua de les expressions de les criatures mai no es pot imitar amb èxit; és millor que la sentim a la música en proporció a la dignitat i la sofisticada comprensió de la cantant.
Les cançons les va cantar per primer cop Jennie Tourel el 24 d'agost de 1943 (el dia abans que Bernstein, que la va acompanyar al piano, fes els vint-i-cinc anys) a Lenox (Massachussets), i la mateixa Tourel va proposar que les interpretessin novament a un concert que feia el 13 de novembre a Nova York. Estrenar a Nova York no era pas poc, i Bernstein n'estava tan content i tan orgullós que va demanar als seus pares i el seu germà que l'hi acompanyessin. El concert va anar molt bé i les cançons van agradar, però qualsevol ressó que haguessin pogut tenir va quedar eclipsat per una altra qüestió que, tot i que no té res a veure amb I hate music!, m'agradaria explicar-vos.

Primer, situem-nos. En aquella època, els concerts simfònics transmesos en directe eren un dels plats forts de la programació radiofònica; tots hem vist escenes a pel·lícules amb la família reunida entorn de la ràdio. Tant important eren, que la NBC va fundar una orquestra, la NBC Symphony, dirigida per Arturo Toscanini, per competir amb la CBS, que emetia els concerts de la New York Philharmonic. Després del concert a Lenox, el director Artur Rodzinski li va dir a Bernstein que havia estat nomenat director d'aquesta orquestra i que volia que fos el seu assistent i Bernstein, és clar, va acceptar.

Ara que ja estem situats, tornem al 13 de novembre. El concert de la New York Philharmonic de l'endemà, el que s'emetia per la ràdio, havia de dirigir-lo ni més ni menys que Bruno Walter, però va agafar la grip; el seu substitut havia de ser Rodzinski, però aquell mateix dia van avisar Bernstein que el director era fora de Nova York, mig aïllat per una nevada, i que si no arribava a temps hauria de dirigir ell. El dia 14 al matí, Bernstein va anar a veure Walter, que tremolant per la febre li va donar quatre consells sobre les obres que havia de dirigir. A les tres de la tarda, sense cap assaig amb l'orquestra, va sortir a l'escenari del Carnegie Hall (i a milions de cases a través de la ràdio) un jovenet, amb un inesperat vestit fosc perquè no tenia el jaqué preceptiu. Bernstein va explicar molts anys després que no recordava res entre aquell moment i l'ovació al final del concert, ni tan sols la pausa. El seu èxit va ser tan gran que el New York Times va publicar la notícia no a les pàgines de cultura sinó a la portada. I la resta, més o menys, ja la sabem. És fantàstic poder explicar de tant en tant històries amb final feliç!

I ara, escoltem Jennie Tourel i Leonard Bernstein interpretant I'm a person, too, i mirem d'imaginar-nos com es devia sentir aquell pianista i compositor que potser l'endemà hauria de ser director. Per molts anys, A.!
I'm a person, too

I just found out today, that I'm a person too, like you!
I like balloons; lots of people like balloons:
But ev'ryone says, "Isn't she cute? She likes balloons!"
I'm a person too, like you!
I like things that ev'ryone likes:
I like soft things and movies and horses
And warm things and red things, don't you?
I have lots of thoughts; like what's behind the sky;
And what's behind what's behind the sky:
But ev'ryone says, "Isn't she sweet?
She wants to know ev'rything!"
Don't you? Of course I'm very young to be saying all these things
In front of so many people like you;
But I'm a person too!
Though I'm only ten years old;
I'm a person too, like you!
Avui tot just he esbrinat que també sóc una persona, com vosaltres!
M'agraden els globus, a molta gent li agraden els globus,
però tothom diu: Oi que és bufona? Li agraden els globus!
També sóc una persona, com vosaltres!
M'agrada el que agrada a tothom:
m'agraden les coses suaus i les pel·lícules i els cavalls
i les coses càlides i les coses vermelles, a vosaltres no?
Penso moltes coses, com què hi ha darrera del cel,
i què hi ha darrera del que hi ha darrera del cel.
Però tothom diu:
Oi que és dolça? Vol saber-ho tot!
I vosaltres no? És clar que sóc molt jove per dir totes aquestes coses
davant de tanta gent com vosaltres,
però també sóc una persona!
Tot i que només tingui deu anys,
també sóc una persona, com vosaltres!