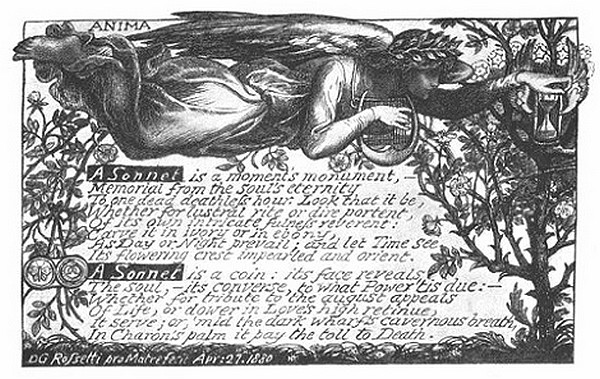 El sonnet - D.G.Rossetti
A Sonnet is a moment's monument,
Memorial from the Soul's eternity
To one dead deathless hour.
Aquestes paraules obren
The House of Life
(La casa de la vida), del pintor i poeta Dante Gabriel Rossetti, un recull de cent sonets que tracten de diferents aspectes de l'amor. "Un sonet és un monument al moment, memorial de l'eternitat de l'ànima a una hora immortal i morta". El dinovè dels poemes,
Silent noon
(Migdia silenciós), és un monument a un moment de felicitat absoluta i serena, en comunió amb la persona estimada i la natura, i és també una reflexió sobre el pas del temps. El sonet descriu el moment de plenitud amb plena consciència que passarà, tots els versos transcorren en el present excepte l'últim, que ja pertany al passat.
Rossetti descriu imatges que no ens costa gens d'imaginar en un quadre, com els dos primers versos, i amb quatre paraules "pinta" la felicitat: "
Your eyes smile peace
" (els teus ulls somriuen pau). L'estimada ha atret la nostra mirada, com la del poeta, al primer quartet; en el segon veiem el que veu la parella: camps florits i els núvols que passen. L'espiadimonis està suspès, com el temps, en el primer tercet, i en el segon, la conclusió, la parella s'aferra a l'instant de felicitat per fer-lo seu, perquè ja ha passat.
El 1903, Ralph Vaughan Williams va escriure a partir d'aquest poema una de les seves millors cançons; una mica més tard va escriure cinc cançons més sobre textos de
The House of Life
i va publicar el cicle amb aquest mateix nom.
Silent noon
es va estrenar independentment de la resta de cançons i continua interpretant-se sovint de forma aïllada.
Vaughan Williams realça el poema centrant-se en els sentiments, amb una atmosfera serena i tranquil·la però alhora amb intensitat i passió. Sembla que no vulgui que ens perdem ni una sola paraula del poema, ni destorbar el moment amb cap excés; fa servir frases llargues i transparents, "quasi-recitatius" (així ho indica la partitura), manté la veu la major part del temps en el centre i juga amb les dinàmiques de forma molt subtil; tot això acompanyat pel piano que sempre manté una atmosfera somiosa.
Vaughan Williams fa més èmfasi en subratllar algunes frases o versos que en remarcar l'estructura del poema. Així, destaca amb un
pianissimo
seguit per silenci la frase que us esmentava abans "
Your eyes smile peace
", o el vers que tanca el segon quartet, "
'Tis visible silence, still as the hour-glass
", que es va alentint, com si el poeta s'adonés en aquell moment que un rellotge de sorra no s'està quiet. El primer tercet comença a cappella, i la veu pràcticament recitada destaca la quietud del moment; a continuació veiem com el compositor trenca la regularitat del sonet, perquè el tercer vers recupera l'acompanyament de la primera estrofa i s'avança a la recuperació de la melodia al segon tercet: tornem a sentir la felicitat, que al
pianissimo
de l'últim vers ja pertany al passat. Però l'hem compartida, amb aquesta cançó bellísima que va ser de les primeres a arribar a la llista de
cançons més felices
.
No sé si hi estareu d'acord, per a mi aquesta cançó té molt en comú amb el més pur Romanticisme alemany, i em sembla una
cirera
inseparable d'un lied que escoltarem la propera setmana.
Silent noon
Your hands lie open in the long fresh grass, –
The finger-points look through like rosy blooms:
Your eyes smile peace. The pasture gleams and glooms
'Neath billowing skies that scatter and amass.
All round our nest, far as the eye can pass,
Are golden kingcup-fields with silver edge
Where the cow-parsley skirts the hawthorn-hedge.
'Tis visible silence, still as the hour-glass.
Deep in the sun-searched growths the dragon-fly
Hangs like a blue thread loosened from the sky: –
So this wing'd hour is dropt to us from above.
Oh! clasp we to our hearts, for deathless dower,
This close-companioned inarticulate hour
When twofold silence was the song of love.
Les teves mans reposen obertes sobre l'alta i fresca herba,
les puntes dels dits s'hi veuen com flors rosades:
Els teus ulls somriuen pau. El prat lluu i s'enfosqueix
sota els cels ondulants que es dispersen i s'ajunten.
Al voltant del nostre niu, fins a on els ulls abasten,
hi ha camps de botons d'or amb vores d'argent
allà on el cerfull voreja la bardissa d'espinalb.
És el silenci visible, quiet com un rellotge de sorra.
Enfonsat a les plantes cercades pel sol l'espiadimonis
penja com un fil blau deixat anar del cel:
així aquesta hora alada està suspesa sobre nosaltres.
O, aferrem-nos als nostres cors, per aquest do immortal,
aquesta hora de complicitat sense paraules
quan el silenci de tots dos era la cancó de l'amor.
Moment autobiogràfic: fa unes setmanes us preguntava pels compositors que ens visitaven al blog, si n'hi havia massa de nous, on era el punt d'equilibri... i un lector (i amic) va demanar un espai per les obsessions. Silent noon va ser una obsessió, amor a primera vista; després de la primera escolta va passar directament a la llista d'imprescindibles, de la qual encara no n'ha sortit (posem que les cançons, com tot, són imprescindibles fins que deixen de ser-ho). La versió que he compartit és la d'Ian Bostridge i Julius Drake, responsables en bona part de la meva obsessió.