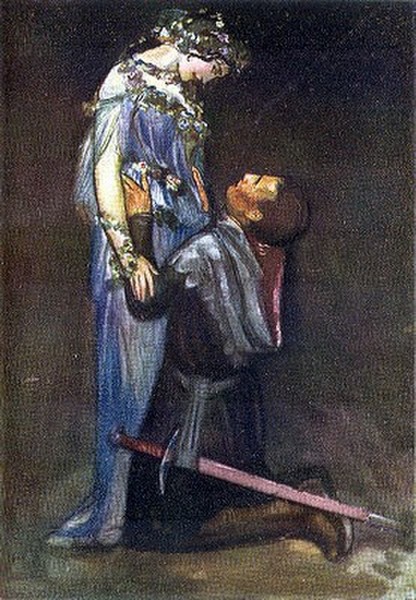 La belle dame sans merci - Robert Anning Bell
A quin compositor de trenta-set anys convidaria avui la Filharmònica de Berlín perquè dirigís un programa amb obres seves? Arran de l'èxit assolit a Alemanya per la seva Tercera Simfonia, Charles Villiers Stanford va oferir el 14 de gener de 1889 un concert a Berlín durant el qual va estrenar la Quarta Simfonia i la Suite per a violí i orquestra. El solista va ser ni més ni menys que el gran Joseph Joachim.
Nascut a Dublín el 1852, Stanford és un dels compositors que més va contribuir a revitalitzar la música britànica a finals del segle XIX. No només amb les seves obres, sinó també amb la seva tasca pedagògica; entre els alumnes que se'n van beneficiar hi ha Ralph Vaughan Williams, Gustav Holst o Frank Bridge, per mencionar-ne només tres que hem escoltat aquí. La seva extensa obra, de la qual pràcticament només s'interpreten regularment les peces per a església, inclou també nombroses cançons, de les quals n'hem escoltat dues durant el 2021: Tears i The Monkey's Carol. Però com que totes dues van coincidir amb períodes de vacances, és a dir, amb períodes d'articles més breus, no havia presentat encara el compositor. Ara sí; amb aquest article fem la presentació oficial de Stanford, que no té altre objectiu que situar-lo en el temps i donar a les seves cançons una mica de context.
Perquè el compositor s'hi va dedicar intensament, a la cançó, en una època, la victoriana, en què hi havia molta demanda de partitures per interpretar-les a la intimitat de la llar. Stanford, tanmateix, no considerava la cançó un gènere menor, una manera fàcil de pagar les factures; al seu popular manual de composició, publicat el 1911, en parlava com "una de les tasques més difícils que un compositor podia emprendre". La Stanford Society parla al seu web d'un corpus de tres-centes cançons, de les quals diria que una part no està encara enregistrada; en els últims anys estan apareixent nous CD; donat que el 2024, farà cent anys de la mort del compositor, cal esperar que l'efemèride doni un nou impuls als enregistraments i les interpretacions en concert.
Una prova de la importància que donava Stanford a la cançó és que el programa d'aquell concert del 1889 a Berlín n'incloïa tres, les versions orquestrades (i desaparegudes després d'aquell concert) d'unes peces escrites originalment per a veu i piano; entre elles, la cançó més coneguda del seu repertori, potser l'única que no ha deixat mai d'interpretar-se i enregistrar-se: La belle dame sans merci.
El compositor va posar música a un cèlebre poema escrit el 1819 per John Keats, poeta romàntic que situem com a estrictament contemporani de Schubert, tot i que va morir encara més jove que ell, als vint-i-sis anys, dos anys després d'escriure La belle dame sans merci. A les tres primeres estrofes sentim algú que s'adreça a un cavaller que, per la descripció que en fa, sembla una ànima en pena; a les nou restants és el mateix cavaller qui explica com es va enamorar d'una jove que era en realitat una fada que l'ha deixat en l'estat miserable en què es troba (ves que no sigui realment una ànima en pena). A la part final del poema, el cavaller parla d'altres víctimes de la cruel criatura que se li han aparegut en somnis i s'hi refereixen com la belle dame sans merci; aquí Keats cita un altre poema francès molt conegut, escrit el 1424 per Allan Chartier (i traduït al català el 1428 per Francesc Olivier) en el qual un jove mor de pena després de ser rebutjat una vegada i una altra per una bella dama sense pietat.
Així doncs, el poema de Keats s'inspira en una balada medieval, i Stanford, que el 1877 acabava de tornar d'una estada de formació a Alemanya i coneixia bé el gènere, també va donar a la seva cançó aquesta forma. Segons sembla, va escriure-la d'una tirada, i no va ser fins molts anys després que va recordar que aquell no havia estat el primer intent de compondre a partir d'aquest poema; el 1892 va trobar els esbossos que n'havia fet el 1866, quan només tenia catorze anys; en adonar-se que la tasca li venia massa gran, l'havia abandonada i oblidada. Però la sorpresa no va ser retrobar-se amb aquells papers, sinó adonar-se que els tres primers versos de la versió que havia compost el 1877 (inclosa en l'Album of twelve English Songs) eren pràcticament iguals que els del seu intent adolescent.
Us proposo que escoltem La belle dame sans merci una interpretació que m'agrada molt, la de Ian Bostridge i Julius Drake. Abans, però, una recomanació literària: la traducció del poema que trobareu aquí és meva, però si voleu llegir-ne una que fa goig, busqueu la de Miquel Desclot en un volum de versions de poemes anglesos publicat l'any passat, el títol del qual és precisament La bella dama sense pietat. I, ara sí, gaudiu de la cançó.
La belle dame sans merci
O what can ail thee, knight-at-arms,
So lone and palely loitering?
The sedge hath wither'd from the lake,
And no birds sing.
O what can ail thee, knight-at-arms,
So haggard and so woebegone?
The squirrel's granary is full,
And the harvest's done.
I see a lily on thy brow
With anguish moist and fever dew,
And on thy cheeks a fading rose
Fast withereth too.
I met a lady in the meads,
Full beautiful—a faery's child;
Her hair was long, her foot was light,
And her eyes were wild.
I made a garland for her head,
And bracelets too, and fragrant zone;
She look'd at me as she did love,
And made sweet moan.
I set her on my pacing steed,
And nothing else saw all day long,
For sidelong would she bend, and sing
A faery's song.
She found me roots of relish sweet,
And honey wild, and manna dew,
And sure in language strange she said—
'I love thee true.'
She took me to her elfin grot,
And there she wept, and sigh'd full sore,
And there I shut her wild wild eyes
With kisses four.
And there she lulled me asleep,
And there I dream'd—Ah! woe betide!
The latest dream I ever dream'd
On the cold hill's side.
I saw pale kings and princes too,
Pale warriors, death-pale were they all;
They cried—'La belle dame sans merci
Hath thee in thrall!'
I saw their starved lips in the gloom,
With horrid warning gaping wide,
And I awoke and found me here,
On the cold hill's side.
And this is why I sojourn here,
Alone and palely loitering,
Though the sedge is wither'd from the lake,
And no birds sing.
O, què us afligeix, cavaller armat,
que vagueu tan sol i tan feble?
El joncar del llac s'ha marcit
i cap ocell no canta.
O, què us afligeix, cavaller armat,
tan demacrat i abatut?
El graner de l'esquirol és ple
i la collita acabada.
Veig un lliri al vostre front
humit d'angoixa i emperlat de febre,
les roses esmorteïdes de les vostres galtes
també es marceixen.
Vaig conèixer una dama al prat,
tan bella... la filla d'una fada;
els cabells eren llargs; el peus, lleugers,
i la mirada, salvatge.
Vaig teixir-li una garlanda pel cap,
i braçalets també, i un cinyell fragant;
em mirà com si m'estimés
i gemegà dolçament.
La vaig pujar al meu corser,
i no vaig veure res més en tot el dia;
perquè em mirava de reüll i cantava
una cançó fadadora.
Em trobà arrels de gust plaent,
i mel boscana, i rosada de mannà,
i en un llenguatge desconegut semblava dir:
"Us estimo".
Em dugué a la seva cova d'elf,
i allà plorà i sospirà tendrament,
i allà vaig cloure'n els ulls salvatges
amb quatre besades.
I allà em bressolà fins a adormirme,
i allà vaig somiar... ai las!
l'últim somni de la meva vida
al turó glaçat.
Vaig veure-hi pàl·lids reis i també prínceps,
i pal·lids guerrers, tots eren pàl·lids com la mort;
cridaven: "La belle dame sans merci
us ha posseït!"
Vaig veure'n els llavis famolencs a la penombra,
oberts en hòrrid advertiment,
i en despertar em vaig trobar aquí,
al turó glaçat.
I és per això que sojorno aquí,
vagant sol i feble,
quan el joncar del llac s'ha marcit,
i cap ocell no canta.
Articles relacionats