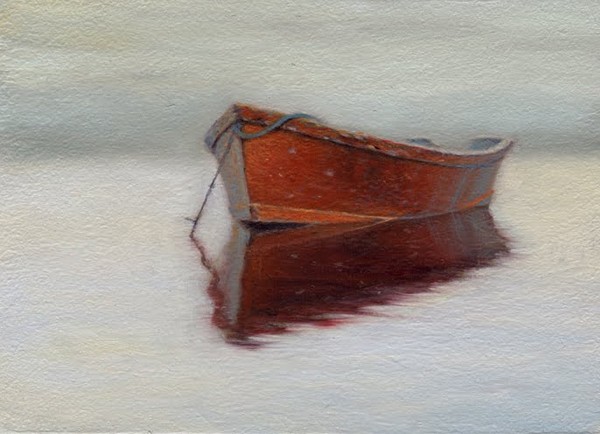 When a song has been stuck on my mind for weeks, it's time to share it with you; It's proven that talking about it is a way of getting rid of it (just to make room for a new earworm anyway). In addition, this song isn't really well-known, and maybe some of you will hear it today for the first time. Do you remember that some time ago I talked about
Geheimes
and its daring elegance? Well,
Des Fischers Liebesglück
(The fisherman's luck in love) is somehow similar; a refined, elegant Lied and, at the same time, subtly risky.
Everything began in September 1827 (just after the second part of
Winterreise
was ended), when Schubert traveled to Graz to spend there a couple of weeks. The Pachlers had invited him through a common friend. Karl and Maria Pachler were very fond of art; Maria also was a great pianist, in fact, Beethoven's favourite to play his sonatas. They loved having their home full of artists and intellectuals; the atmosphere in Graz wasn't as oppressive as in Vienna and most likely, they could speak more freely without fearing deletions. In Graz, Schubert joined some old friends, made new acquaintances and, above all, he shared his music, one of the things that made him happiest.
Maria Pachler showed him some poems by her young friend Karl Gottfried von Leitner (he was then 25), also a poet from Graz; so, could he write some lied from them? A few weeks later, again in Vienna, Schubert composed six Lieder with these poems; among them,
Des Fischers Liebesglück
. Composer and poet didn't get to know each other, but years later, Leitner wrote to Schubert's nephew about those lieder: "I believe that their excellence is vouched by the fact that, whenever I hear them performed, I experience exactly the same emotions as I did when writing the words of the text."
Des Fischers Liebesglück
tells about a love encounter: from his boat, the fisherman sees a light in the window of his loved one, he heads for the shore, there he fetches her, and together go back to the lake, away from prying eyes. Leitner uses eleven stanzas of seven verses; In each stanza, the verses have only three syllables, except the last one, which has five. Due to this structure and to the moving-forward poem, we might think that the easiest option was a through-composed Lied; a strophic Lied normally requires a more static poem. But Schubert chose the most difficult way, a pure strophic song, and he did it by dividing the stanzas into groups, three stanzas each, so the Lied had four musical verses (he repeated one of the stanzas to get twelve of them). Each musical verse has a prelude of four measures and after its first stanza there is a brief interlude, an echo of the singer's last phrase; the rest of the accompaniment is very restrained, hardly any chords to underline the words with a barcarolle rhythm.
Schubert repeats the first four verses of the second stanza of each musical verse. Repetitions are usually used to emphasize certain sentences; in this case, the enhanced items are: the light that attracts the fisherman, the girl who leaves her place, the kisses on the boat, and their happiness, oblivious to the world (a happiness even more reinforced because that eleventh stanza is the one repeated by Schubert). He highlights all this verses with such a beautiful music that you cannot but pay attention to them.
Being the poem so happy, why is the song so melancholic, even gloomy sometimes? Maybe because the poem is shrouded in a complex story we ignore, maybe the encounter is not as innocent as the poem tells (excusatio non petita...)? Yes, this theory could be a side effect of having attended Tristan und Isolde twice in three days, but don't you think that if the second act would take place in a boat,
Des Fischers Liebesglück
could be their song? Maybe the uneasiness in the song is just that feeling that we often find in Schubert's music, a feeling that Steven Isserlis so accurately described some time ago on Twitter: "The contrast one feels in Schubert's music between the dark menace of death and the love of life is perhaps what makes it so uniquely tragic." Whatever the case, this incertitude is part of the charm and beauty of this song.
Like Geheimes, the elegance of this piece can fall apart if the performance doesn't rise to the occasion, it should be well-balanced, and it's not an easy song for the singer. There aren't many recordings but some of them are highly recommended; I'm sharing with you my favourite, that of Hans Hotter and Hans Altmann. Maybe you're thinking I also chose Hotter to sing Geheimes, you're right, but it's just a coincidence. Well, that's what I think anyway. I hope you fall in love with the song and its version, and both get stuck on your mind for many days.
Des Fischers Liebesglück

Dort blinket
Durch Weiden,
Und winket
Ein Schimmer
Blassstrahlig
Vom Zimmer
Der Holden mir zu.
Es gaukelt
Wie Irrlicht,
Und schaukelt
Sich leise
Sein Abglanz
Im Kreise
Des schwankenden Sees.
Ich schaue
Mit Sehnen
In's Blaue
Der Wellen,
Und grüsse
Den hellen,
Gespiegelten Strahl.
Und springe
Zum Ruder,
Und schwinge
Den Nachen
Dahin auf
Den flachen,
Krystallenen Weg.
Fein-Liebchen
Schleicht traulich
Vom Stübchen
Herunter,
Und sputet
Sich munter
Zu mir in das Boot.
Gelinde
Dann treiben
Die Winde
Uns wieder
See-einwärts
Vom Flieder
Des Ufers hindann.
Die blassen
Nachtnebel
Umfassen
Mit Hüllen
Vor Spähern
Den stillen,
Unschuldigen Scherz.
Und tauschen
Wir Küsse,
So rauschen
Die Wellen
Im Sinken
Und Schwellen,
Den Horchern zum Trotz.
Nur Sterne
Belauschen
Uns ferne,
Und baden
Tief unter
Den Pfaden
Des gleitenden Kahns.
So schweben
Wir selig,
Umgeben
Vom Dunkel,
Hoch überm
Gefunkel
Der Sterne einher.
Und weinen
Und lächeln,
Und meinen,
Enthoben
Der Erde,
Schon oben,
Schon d'rüben zu sein.
Please visit this
link
if you need an English translation.