Since September 2013 I'm posting regularly in English in addition to Catalan. If you want to read this post translated to English, please use the automatic translator on the right column.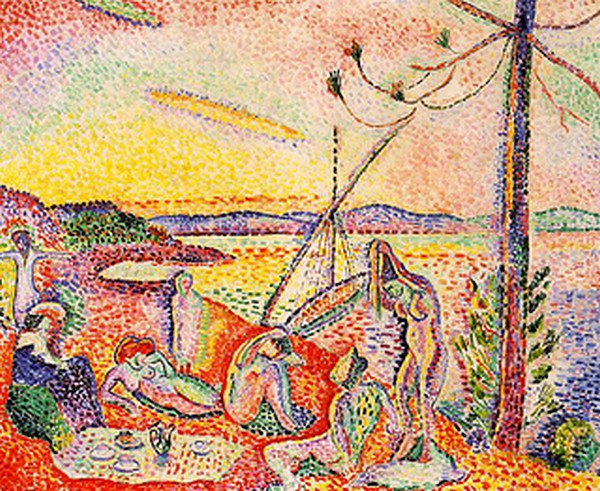 Luxe, calme et volupté - H. Matisse
Ordre. Per a alguns, una necessitat; per d'altres, una amenaça. Una font d'inspiració o la mort de la creativitat. L'harmonia o la rigidesa. Si us teniu per endreçats segurament us haureu adonat que els que no ho són tant sovint associen l'ordre amb grisor i avorriment, si no amb les pitjors connotacions de rutina i disciplina.
Així posats, una lloança a l'ordre no és el que esperem trobar en un poema, però vet aquí que un bon dia, escoltant una cançó, ens trobem amb aquests versos:
Là, tout n'est qu'ordre et beauté, Luxe, calme et volupté.
Ordre. L'ordre i després la bellesa, el luxe, la calma i la voluptuositat. Aquestes paraules les trobem en L'invitation au Voyage (La invitació al viatge), de Baudelaire, poema publicat el 1856 dins d'Spleen et Idéal, la primera part de Les fleurs du mal. El poeta comparteix amb la seva estimada el somni d'un país, una terra on evadir-se; no cal fer aquest viatge, només amb la invitació ja n'hi ha prou. Per poc que coneguem l'agitada vida que menava Baudelaire ens farem una idea de la seva necessitat, ni que fos de tant en tant, de repòs físic i espiritual, i al lloc que descriu ens hi apuntaríem tots. Bé, si més no tots els endreçats.
Henri Duparc compon l'L'invitation au Voyage, dedicada a la que poc després seria la seva dóna, el 1870. De les tres estrofes que té el poema, posa música a la primera i la tercera. El piano obre la canço amb misteri i s'il·lumina amb la menció al sol (o, millor dit, als sols); lleument, perquè la llum d'aquest sol, filtrada per la pluja, no fereix. Els dos versos que tanquen la primera estrofa estan tot just subratllats, deixant a la veu tot el protagonisme. A la segona estrofa el piano torna a canviar amb la referència al sol, el sentim espurnejar als camps i als canals, i aquest espurneig acompanya la veu fins al final, també als dos versos que tanquen novament l'estrofa. Quan escoltem la cançó ens adonem que es tracta d'una música inequívocament francesa i és que Duparc, juntament amb Fauré, donen caràcter propi a la mélodie allunyant-la del lied.
Quan Duparc va escriure L'invitation au Voyage tenia 22 anys i tota la vida per davant; per desgràcia, tot i que va viure fins als 85 anys, la seva salut només li va permetre compondre durant quinze anys més. Tan sols va deixar disset cançons però la seva qualitat fa que sigui un dels compositors francesos més interpretats en els recitals.
Avui ens el porta José van Dam acompanyat al piano per Maciej Pikulski.
L'invitation au Voyage
Mon enfant, ma sœur,
Songe à la douceur
D'aller là-bas vivre ensemble!
Aimer à loisir,
Aimer et mourir
Au pays qui te ressemble!
Les soleils mouillés
De ces ciels brouillés
Pour mon esprit ont les charmes
Si mystérieux
De tes traîtres yeux,
Brillant à travers leurs larmes.
Là, tout n'est qu'ordre et beauté,
Luxe, calme et volupté.
Vois sur ces canaux
Dormir ces vaisseaux
Dont l'humeur est vagabonde;
C'est pour assouvir
Ton moindre désir
Qu'ils viennent du bout du monde.
— Les soleils couchants
Revêtent les champs,
Les canaux, la ville entière,
D'hyacinthe et d'or;
Le monde s'endort
Dans une chaude lumière.
Là, tout n'est qu'ordre et beauté,
Luxe, calme et volupté.
Nena meva, germana meva,
pensa en la dolçor
per anar-hi a viure junts!
D'estimar a voluntat,
d'estimar fins a la mort
a la terra que és com tu!
Els sols mullats
dels cels ennuvolats
té per al meu esperit els encants
tan misteriosos
dels teus ulls traïdors
lluminosos a través de les llàgrimes.
Allà, tot és ordre i bellesa,
luxe, calma i voluptuositat.
Veure en els canals
dormir els vaixells
de qui és l'estat d'ànim vagabund;
és per satisfer
el teu menor desig
que ells vénen d'arreu del món.
-Les postes de sol
vesteixen els camps,
els canals, la vila sencera
de jacint i d'or;
s'adorm el món
en un càlid resplendor de llum.
Allà, tot és ordre i bellesa,
luxe, calma i voluptuositat.

(traducció de Toni Arencón i Arias)