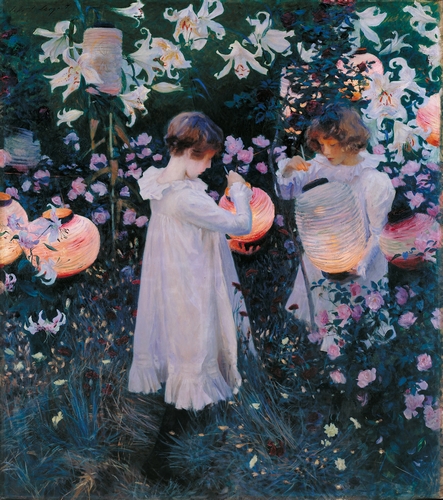 Carnation, lily, lily, rose - J. Singer Sargent
My friend A keeps asking me to celebrate her birthday with balloons and, in turn, I keep telling her that some day I'll go into a restaurant o wherever we are with a dozen huge balloons, but she doesn't believe me and neither do I. She's right, I'm not the kind of person who would draw everybody's attention by going into a restaurant with balloons, but that "wherever" could also be here, so, as this week it is her birthday, this week we are going to have balloons. Yes, a song with balloons, thanks to Leonard Bernstein. Don't I always tell you that there's a song for every occasion?
In the summer of 1942, Leonard Bernstein moved to New York. He was twenty-four and wasn't famous yet. His income came from coaching singers, making arrangements and that kind of jobs because Aaron Copland had rented a piano so as he could work. To save some money, he shared the apartment with a girl named Edys Merrill, a girl who, sometimes, was driven to despair by a piano playing any time day or night: "I would walk around the apartment with my hands over my ears screaming: I hate music - la de da de da." Bernstein wrote a song cycle with this title,
I hate music
, and dedicated it to Edys. You may remember that a few months ago, when I spoke about "
odd programs
" we listened to the central song, also called
I hate music
.
The cycle is subtitled A
kid cycle of five songs
, five songs sung by a girl who in the first song tells us her name, Barbara, and in the last,
I'm a person, too
, (the one we're listening today) says she's ten. Being ten seventy years ago was different from being ten now, and Barbara is as ingenuous as to ask where do babies come from, but she also feels strongly about her ideas and demands to be treated as a grown up. Pretending you're a girl isn't easy, and Bernstein wrote in the score:
In the performance of these songs, coyness is to be assiduously avoided. The natural, unforced sweetness of child expressions can never be successfully gilded; rather will it come through the music in proportion to the dignity and sophisticated understanding of the singer.
The songs were premiered by Jennie Tourel on August 24th, 1943 (the day before Bernstein, who accompanied her on the piano, turned 25) in Lenox (Massachusetts), and she suggested to sing them again in a concert in New York, on November 13th. Performing in New York was very important, and the proud, happy Bernstein asked his parents and his brother to join him. The concert was a success, but any impact it could have had was outshined by another matter I would like to tell you about, even if it has nothing to do with those songs.

Let's place ourselves in that time context, when concerts were broadcasted live all over the country; we all remember scenes from movies with the whole family gathered around the radio. Concerts were so successful that the NBC Radio founded an orchestra, the NBC Symphony, conducted by Arturo Toscanini, to contend with the CBS Radio, which broadcasted the New York Philharmonic concerts from the Carnegie Hall. After that concert in Lenox, conductor Artur Rodzinski told the young Bernstein that he had been appointed conductor of that orchestra and wanted him to be his assistant. Bernstein, of course, accepted.

Let's go back to November, 13th. Bruno Walter should have been conducting the New York Philharmonic the following day, the broadcasted concert, but he caught the flu and Rodzinski, the principal conductor, was going to replace him. But that very day he was far from New York, pretty much isolated by snow, and Bernstein was told that he probably should step in. On the 14th, in the morning, he went to see Bruno Walter, who gave him some tips on the programme. At 3p.m., without any rehearsal, he walked onstage (and into millions of homes thanks to broadcast), a young man in a dark suit because he didn't have the usual cutout. Bernstein said many years later that he didn't remember anything from that moment until the final applause, not even the intermission. His success was so huge that the New York Times didn't talk about the concert in the arts section but in the front page. And that was only the beginning... It's great to tell a story with a happy end!

And now we're listening mezzosoprano Jennie Tourel and Leonard Bernstein performing I'm a person, too, while we try to imagine how did that pianist and composer felt, knowing that the next day he could become a conductor. Happy birthday, A!
I'm a person, too

I just found out today, that I'm a person too, like you!
I like balloons; lots of people like balloons:
But ev'ryone says, "Isn't she cute? She likes balloons!"
I'm a person too, like you!
I like things that ev'ryone likes:
I like soft things and movies and horses
And warm things and red things, don't you?
I have lots of thoughts; like what's behind the sky;
And what's behind what's behind the sky:
But ev'ryone says, "Isn't she sweet?
She wants to know ev'rything!"
Don't you? Of course I'm very young to be saying all these things
In front of so many people like you;
But I'm a person too!
Though I'm only ten years old;
I'm a person too, like you!