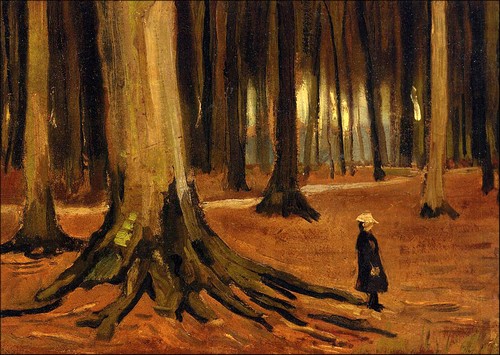 Girl in the woods - V. van Gogh
I had never heard of Ernest Bloch until Salvador, a friend of Liederabend, told me about his Poèmes d'Automne; thanks to him, I got to know a beautiful cycle. That was more than two years ago and so far, I hadn't been able to share with you any of those songs because something very important was missing: the poems. Yes, we spent two years looking for the poems because the CD booklet didn't include them. Thanks to another friend, Ester, we got them and today, we can listen to one of the songs. That's called teamwork, isn't it?

It was difficult to find the poems and also, some information about Bloch and his cycle; I'd say that suggests that the composer was quickly forgotten. Ernest Bloch was born in Geneva in 1880. He began to learn music as a child and lived in some European cities, first as a music student and after, trying to make his way as a musician, until he moved to the United States with his own family (he got married in 1904) in 1916. There, he achieved the success he hadn't had in Europe, so he decided to stay and was nationalized in 1926. Nevertheless, he missed Switzerland. He went back to his homeland and stayed there for about ten years. In 1938, driven by anti-Semitism and winds of war, he finally returned to America, where he died in 1959. Bloch left a rather extensive work (symphonic music, concerts, chamber music, choral works...) that I don't know at all; I don't remember having heard any of them in a concert but that shouldn't be an excuse as some of them have been recorded...

Poèmes d'Automne, for mezzosoprano and orchestra, is one of his early works, composed in 1906 and premiered in 1917 in New York; it's his second and last song cycle after Historiettes au crépuscule (1904). Scholars mention the influence of Strauss, Debussy and Jewish liturgical music in those early works; that song cycle mostly reminds me of the French composer. It includes four songs which speak of sorrow, lost youth, life challenges... all common issues if it wasn't for the fact that the poems talk about a woman and are written by a woman: Béatrix Rodès.

To find information about Ernest Bloch hasn't been easy; to find information about Béatrix Rodès has been almost impossible. I've only been able to find out some details which barely allow us to draw a blurred picture of her. We know that she was Swiss and her real name was Charlotte Sachs-Ribon; she published under a pseudonym. Apparently, when Bloch wrote Poèmes d'automne, she and the composer were lovers and their history together only lasted a few months. The four poems set to music are from Les errantes (published in 1902) which according to some sources, is a novel, not a collection of poems. In addition to this work, Rodès published at least three more books: Renaître (1910), Le souffle de feu (1919) and the best known in her time, L'âme des cathédrales (1910). She died in September 1929, as the Swiss magazine Le mouvement féministe published, "being hardly 50". As you can see, we don't even know exactly when she was born...

We're listening to the first song of Poèmes d'automne, La Vagabonde. The vagabond, not the wanderer, is a woman. We don't know why she is rambling but her image doesn't match the common wanderers (please excuse the adjective): she's dressed in rags, her fingers are numb, her feet are swollen... In fact, I've just realized that other poets don't usually describe such details and we tend to imagine their wanderers as the one painted by Friedrich. Rodès describes the appearance of her vagabond as well as her feelings, which resemble those of other wanderers: sorrow and loneliness, enhanced by the poet and Bloch in the last three verses. Today, we have a very sad song. So be it.

We're listening to La vagabonde with Brigitte Balleys and the Luxembourg Philharmonic Orchestra conducted by David Shallon. Again thanks to Salvador and Ester for making it possible! By the way, I'm afraid the English translation of the song is mine; I apologize but it was the only option available!
La vagabonde

Elle a passé dans le vent d'automne.
Elle cheminait par les routes blêmes,
loin des bois roussis et craquants,
vers les hameaux inhospitaliers,
sous le ciel morne comme son cœur.
Elle allait, elle allait d'une allure accablée,
lourde des souvenirs accrochés à ses haillons,
enchâssés dans sa chair douloureuse,
et ses pieds las étaient gonflés,
et ses yeux étaient farouches.
Nul regard ne croisait la véhémente détresse des siens,
et nulle main ne frôlait ses doigts meurtris
dans sa marche triste vers l'inconnu.
Elle a passé dans le vent d'automne,
la sans foyer, la sans amour,
la sans Dieu.
She went past through the wind of Autumn.
She walked by sallowed pathways
far away from reddish, rustling woods.
Towards the unhospitable hamlets.
Under a sky as grey as her heart.
She went on with overwhelmed step,
balasted by the memories attached to her rags
embedded in her painful flesh,
and her feet were swollen,
and her eyes were fierce.
No gaze met the vehement distress of hers,
no hand grazed her numbed fingers
while she wandered to the unknown.
She went past through the wind of autumn.
The one with no home, the one with no love,
the one with no God.