"Aquesta serà la nostra resposta a la violència: fer música més intensament, més bellament, més devotament que mai."
Leonard Bernstein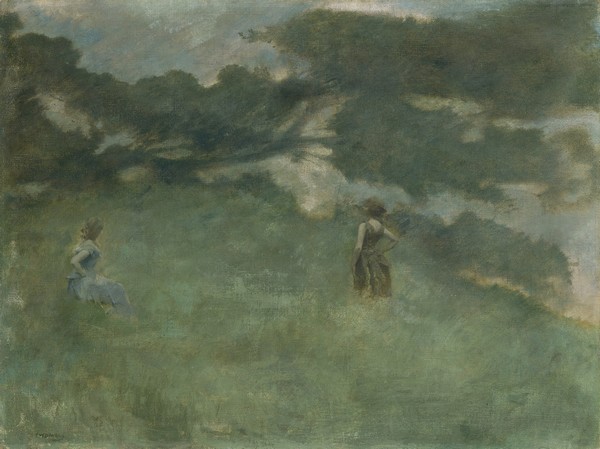 La griveta cua-rogenca - T.W. Dewing
Walt Whitman és un dels poetes fonamentals de la literatura americana. Aquest any es compleix el bicentenari del seu naixement i això ens dona una excusa per escoltar una tercera cançó amb un poema seu, després d'escoltar-ne O you whom I often and silently come, de Ned Rorem, i To what you said, de Leonard Bernstein.
L'obra poètica de Walt Whitman es concentra en un títol, Leaves of grass [Fulles d'herba]; no perquè no n'escrivís cap altre sinó perquè els dotze poemes que tenia aquest volum en la seva primera edició de 1855 van anar creixent fins a més de quatre-cents; a cada edició, el poeta revisava, afegia, treia, reordenava... imagino que deu haver un munt d'estudiosos seguint la pista dels poemes a les diferents edicions. El poema que ens ocupa avui el va incloure a Leaves of Grass el 1867, a la quarta edició, però originàriament forma part del recull que va escriure durant de la Guerra Civil, Drum-Taps, un dels més coneguts i musicats; per ser precisos, forma part de la segona part, Sequel to Drum-Taps. La guerra va acabar l'abril de 1865, mentre la primera part era a la impremta, però aquell mateix mes van assassinar Abraham Lincoln, i aquest fet va inspirar-ne la segona part, que es va publicar a la tardor.
When lilacs last in the dooryard bloom'd és una de les dues elegies del recull (l'altra és la cinematogràficament cèlebre O Captain! My Captain!); el títol fa referència als lilàs florits al pati de la mare del poeta quan va arribar la notícia de la mort de Lincoln; Whitman recorda que s'hi va fixar perquè encara era massa d'hora perquè florissin. El poema, en primera persona, és una llarga reflexió sobre la mort i el dol, dividida en setze cants en la seva versió definitiva. El catorzè cant introdueix una segona veu, la de la griveta cua-rogenca. Aquest ocell viu als boscos més remots d'Alaska, el sud de Canadà i el nord dels Estats Units i difícilment es deixa veure, no és gaire amic dels humans. Al quadre que il·lustra aquest article, Thomas Wilmer Dewing plasma aquesta timidesa, a prou feines hi podem veure l'ocell; les dues figures femenines també el busquen, potser n'han sentit el cant característic, que John Borroughs, naturalista amic de Whitman, descrivia com "el so més bonic de la natura". El poeta es va interessar pels hàbits solitaris de la griveta i la va convertir en l'alter ego del narrador del poema, que diu això tot just abans de donar-li pas: "I la veu del meu esperit va harmonitzar amb la cançó de l'ocell."
M'aturo en la griveta perquè a la cançó que escoltarem aquesta setmana sentirem la seva veu, musicada per un compositor que enguany també celebra un aniversari rodó: George Crumb farà noranta anys d'aquí uns dies, el 24 d'octubre, i s'estrena a Liederabend amb Apparition, un cicle compost el 1979 a partir de fragments de When lilacs last in the dooryard bloom'd.
És un cicle per a veu i piano amplificat; aquest acompanyament ens perment d'escoltar, a més dels sons del piano que coneixem tan bé, suggeridors timbres i sonoritats noves que ens endinsen en el bosc, com ho fan les tres vocalises que sentim després de la primera, quarta i cinquena cançó. Pel que fa als textos, la segona cançó pren el text de la primera estrofa del poema de Whitman, i la resta de diferents moments del cant de l'ocell; en total, Crumb posa música a vint versos de l'elegia.
Apparition és un cicle fascinant, ja des de la primera cançó, The night in silence under many a star, la que escoltarem aquesta setmana. El text és la sisena estrofa que canta la griveta, la penúltima, i sembla que l'ocell (el poeta) comença a acceptar la pèrdua. Sota els estels, tot està en pau, fins i tot les onades de l'oceà són un xiuxiueig. L'ànima es gira cap a la mort i el cos s'arrupeix agraït contra ella; talment com si s'adormís arraulit contra la mare. Crumb repeteix les diferents parts dels quatre versos, sovint amb melismes, i afegeix una vocalise al final dels tres primers; al quart, la veu repeteix fluixet les seves últimes paraules, "close to thee" [a prop teu]. La línia vocal crea una sensació de misteri, com si estiguéssim assistint a un ritual primitiu de comiat, i el so del piano, especialment quan el pianista toca les cordes a la caixa, contribueix a reforçar aquesta atmosfera; l'efecte és hipnòtic.
Crumb va escriure Apparition per encàrrec de la soprano Jan DeGaetani, que el va estrenar juntament amb Gilbert Kalish el gener de 1981; uns anys després el van enregistrar i aquesta és la versió que us proposo. Espero que The night in silence under many a star us agradi tant com a mi i que pugueu dedicar una estona a escoltar el cicle sencer. Si ho feu, tornareu a sentir aquesta cançó al final; el cicle té una estructura circular (similar al cicle Unvergänglichkeit de Korngold), així que la primera cançó i la sisena comparteixen paraules i música, amb petitíssimes diferències.
The night in silence under many a star
The night, in silence, under many a star;
The ocean shore, and the husky whispering wave,
whose voice I know;
And the soul turning to thee, O vast and well-veil'd Death,
And the body gratefully nestling close to thee.
La nit, en silenci, sota una munió d'estels;
la riba de l'oceà, i l'onada enrogallada i murmuriosa,
la veu de la qual conec;
i l'anima que es tomba cap a tu, oh morta vasta i ben velada,
i el cos que s'arrauleix agraït contra tu.
Articles relacionats