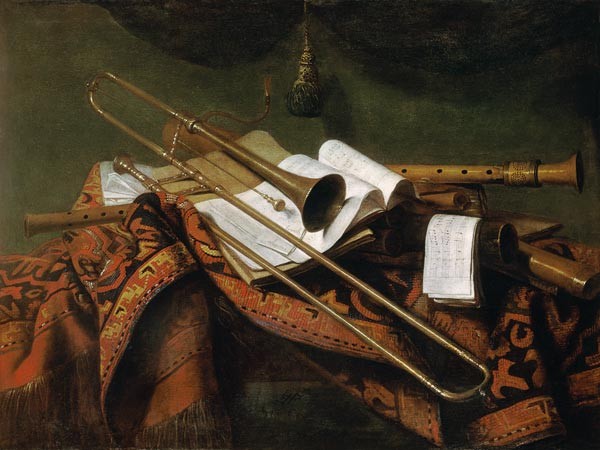 Natura morta amb trompeta i flauta - F. F. Franck
Ja som al setembre, bentornats els que heu fet vacances durant aquestes darreres setmanes. I a tots, que tingueu una molt bona
temporada liederística 2017-2018
! Comença la temporada però l'aire encara fa olor a estiu i vacances, per això us proposo un viatge musical mentre arriba la propera escapada. Fa uns anys, Wolf i Mörike ens van dur la primera setmana de setembre a una illa,
Orplid
, i avui seran Britten i Auden qui ens transportaran a la seva illa.
Benjamin Britten i Wystan Hugh Auden, més conegut com a W. H. Auden, es van conèixer l'estiu de 1935, quan la General Post Office Film Unit els va contractar tots dos per posar música i text, respectivament, als seus documentals. El cinema era el nou mitjà de comunicació i tots dos estaven ben contents de tenir aquesta oportunitat d'arribar al gran públic. Auden tenia vint-i-set anys i ja havia publicat alguns volums de poesia que havien estat ben acollits; Britten en tenia vint-i-un i i acabava de sortir del Royal College of Music. La seva formació era essencialment musical i, per a les les seves inclinacions, molt conservadora; Auden estava al cas de les avantguardes culturals i es movia en cercles intel·lectuals i d'esquerres que interessaven molt a Britten. A més, en l'entorn del poeta la homosexualitat es vivia amb tanta naturalitat com les circumstànces ho permetien. Per tot plegat, Britten es va sentir molt còmode en aquell ambient. Tots dos van reconèixer la vàlua de l'altre i, a més de fer-se amics, aviat van començar una relació professional que va durar fins el 1942 i ens va deixar un bon grapat d'obres.
Una de les primeres és el cicle que us presento avui,
On this Island
, op. 11, que inclou cançons compostes el maig i l'octubre de 1937. Quatre de les cinc cançons tenen poemes d'una col·lecció publicada per Auden el 1936; com que el poeta era de viatge per Islàndia, els editors no van poder comunicar-se amb ell per demanar-li el títol (tant difícil que ens és ara restar incomunicats!) i van triar el primer vers del primer poema,
Look, Stranger!
L'edició americana ja va sortir, aquell mateix any, amb el títol que Auden havia decidit,
On this Island
, i aquest va ser el que va respectar Britten. De quina illa parla el poeta? Hi ha qui reconeix en la descripció del primer poema els penya-segats de Dover, per tant l'illa seria la Gran Bretanya; d'altres autors parlen de l'illa de Wight i d'altres d'un sentiment d'aïllament, més enllà que l'illa sigui real o imaginària.
Els cinc poemes que Britten va triar, i les seves músiques, són ben diferents, no hi ha una unitat temàtica o musical, de manera que podríem parlar de col·lecció de cançons més que no pas de cicle; tenim des d'un tema d'inspiració barroca fins a una peça amb música de ball dels anys 30, passant per un íntim nocturn. La primera cançó d'
On this Island
,
Let the florid music praise
(Fem que la florida música lloï), la vaig apuntar fa temps a la llibreta, pero se'm va passar tot el curs passat sense compartir-la. Ja era hora que sortís de la llista d'espera! A més, no és adequada una fanfara per començar la temporada? Doncs així és com s'obre la cançó: Britten recull l'al·lusió a flautes i trompetes del segon vers i converteix les primeres frases, literalment, en una crida (no és el primer cop que escoltem una fanfara en una cançó, ja ens ho vam trobar amb
Ich liebe dich
, de Strauss). Hi advertim, a més, que les trompetes tenen un aire sospitosament barroc, que es fa més que evident al final de la primera estrofa, en els melismes sobre les paraules "shine on" ("continua brillant"). Una música realment florida!
El poema d'Auden té dues estrofes, amb una mètrica molt similar. Tot i així, totes dues tenen un caràcter molt diferent: a la primera, la música lloa l'amor (segons alguns experts, els versos estan dedicats a un amant de l'escriptor), mentre que a la segona es passa de l'eufòria inicial a un sentiment més meditatiu. Potser per això, Britten no fa una cançó estròfica sinó que atorga també un caràcter molt diferent a totes dues parts. Malgrat aquesta diferència, fixeu-vos que manté els melismes al final de la segona estrofa, ara més curts i més discrets. Let the florid music praise és una cançó molt original, una obra primerenca d'un dels compositors de cançons més importants del segle XX. La nostra versió serà la de Peter Pears i Benjamin Britten.
Let the florid music praise

Let a florid music praise,
The flute and the trumpet,
Beauty's conquest of your face:
In that land of flesh and bone,
Where from citadels on high
Her imperial standards fly,
Let the hot sun
Shine on, shine on.
O but the unloved have had power,
The weeping and striking,
Always: time will bring their hour;
Their secretive children walk
Through your vigilance of breath
To unpardonable Death,
And my vows break
Before his look.
Fem que la florida música lloï
amb flautes i trompetes
la conquesta del teu rostre per la bellesa:
en aquest país de carn i ossos
on sobre les altes ciutadelles
oneja el seu estendard imperial
que el càlid sol
continuï brillant.
Oh, però els no estimats havien tingut poder,
els que ploren i colpegen,
sempre; el temps farà que arribi la seva hora;
els seus nens reservats caminen
pel teu alè vigilant
cap a una mort imperdonable,
i els meus vots es trenquen
davant la seva mirada.
Articles relacionats