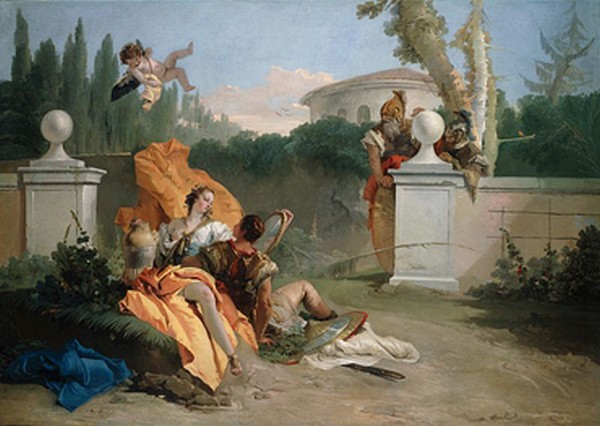 Armida i Rinaldo al jardí - G.B. Tiepolo
Pels aficionats a l'òpera, Armida és un personatge conegut; són molts els compositors que s'han inspirat en el poema
La Gerusalemme Liberata
(La Jerusalem alliberada) de Torquato Tasso, per compondre les seves obres: Vivaldi, Haendel, Lully, Gluck, Rossini, Dvorák...
El poema de Tasso se situa a la Primera Croada. La missió de la maga Armida, neboda del rei de Damasc, és introduir-se al campament dels cavallers cristians que assetgen Jerusalem i fer-ne una desfeta. Així ho fa; provoca que part dels cavallers lluitin entre ells, converteix en animals a d'altres, però quan arriba el moment de matar el croat Rinaldo no pot fer-ho perquè s'ha enamorat d'ell. Llavors l'encanta i se l'enduu al seu jardí màgic, un lloc a on tots els plaers són possibles i d'on ningú, ni molt menys Rinaldo, vol marxar. Allà passen molt de temps tots dos, fins que dos cavallers cristians aconsegueixen arribar fins a Rinaldo i fer-li mirar el seu reflex en un mirall. Quan recorda qui és, l'encanteri es trenca i Rinaldo abandona Armida.
A l'abril es va presentar a Twitter el duo
Armida's Garden
, format pel pianista Nigel Foster i la soprano Kristy Swift, i em va agradar el seu nom; el jardí d'Armida és un lloc ple de bellesa a on, almenys durant un temps, es pot ser feliç, com a un recital. Tot i així em va sorprendre que un duo dedicat a la cançó triés un nom tan operístic, m'estava perdent alguna cosa. Ells mateixos van explicar que el seu nom era el d'una cançó de Hubert Parry i, com us podeu imaginar, vaig tenir curiositat per escoltar una cançó que no coneixia d'un autor que no coneixia.
Sir Charles Hubert Hastings Parry va viure entre 1848 i 1918. Va ser historiador musical i escriptor, i les seves obres més conegudes són les obres corals que de seguida van passar a formar part del repertori de música religiosa a Anglaterra. Parry també va compondre cançons al llarg de tota la seva vida, aproximadament un centenar, la major part de les quals està recollida en dotze volums, els
English Lyrics
, publicats entre 1885 i 1920.
Si recordeu, per Sant Jordi vam tenir una entrada dedicada a
Quilter
, allà esmentàvem com a membres de la primera generació de compositors d'Art Song, a més de Quilter, Elgar, Somervell i Vaughan Williams. Parry havia nascut nou anys abans que Elgar, el més gran dels quatre, i, pel que he pogut esbrinar, componia encara a la manera antiga (de fet, té un recull de cançons anometat
A Garland of Shakesperian and Other Old-Fashioned Songs
, Garlanda de cançons shakesperianes i d'altres cançons antiquades) i és menys rellevant que els seus col·legues més joves. Això no treu que tingui cançons tan boniques com la nostra protagonista d'avui, que almenys a mi em va fer venir ganes de remenar una mica més entre les seves cançons i de compartir-la aquí.
Armida's Garden
es va publicar el 1909 al desè volum dels
English Lyrics
, que inclou set cançons totes elles a partir de poemes de Mary Elizabeth Coleridge i totes elles escrites originàriament per a tenor. En el seu poema, inclòs al poemari
Fancy's Following
(publicat el 1896), l'escriptora parla d'aquest jardí que esmentàvem al començament. El descriu com un lloc fresc i apacible, amb una porta que s'obre cap a un lloc misteriós i plaent; cap imatge luxuriosa, tot molt victorià. Amb aquests versos, Parry compon una cançó encantadora, amb una lleu aroma a nostàlgia. En ple estiu, les acollidores ombres del jardí d'Armida semblen el lloc perfecte per a refugiar-se de la calor; la versió que us proposo no la canta un tenor sinó la soprano Lynne Dawson, acompanyada per Malcolm Martineau.
Armida's Garden
I have been there before thee, O my love!
Each winding way I know and all the flowers,
The shadowy cypress trees, the twilight grove,
Where rest, in fragrant sleep, the enchanted hours.
I have been there before thee. At the end
there stands a gate through which thou too must pass.
When thou shalt reach it, God in mercy send
Thou say no bitterer word, love, than "Alas!"
He estat allà abans de tu, o amor meu!
Conec cada camí sinuós i totes les flors,
els ombrívols xiprers, l'arbreda al crepuscle,
a on descansen, en un somni fragant, les hores encantades.
He estat allà abans de tu. Al final
hi ha una porta que tu també hauries de travessar.
Quan hi arribaràs, Déu misericordiós t'hi enviï,
no diràs paraula més amarga, amor, que "ai las!"