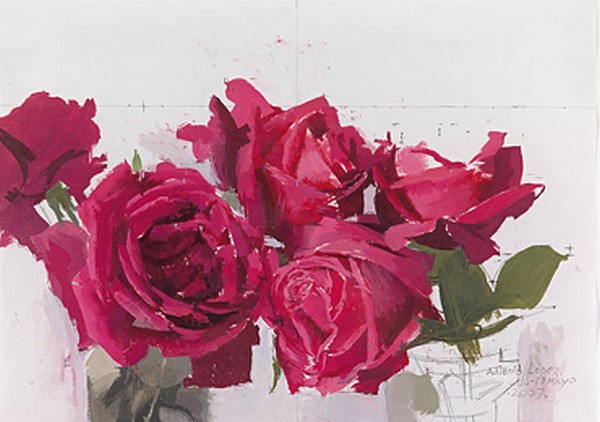 Roses roses - A. López
Dimarts vinent és Sant Jordi, comencem a celebrar-ho? Amb una rosa, és clar. Si l'
any passat
la rosa ens la portava Richard Strauss, aquest any ens la porta un compositor anglès, Roger Quilter.
Quilter va néixer el 1877 i el 1896 va marxar a Frankfurt per a perfeccionar els seus coneixements musicals. Allà va conéixer de primera mà el lied i va escriure les seves primeres cançons; juntament amb Elgar, Somervell i Vaughan Williams, forma part de la primera generació que va escriure Art Song. De fet, Quilter s'hi va dedicar gairebé en exclusiva, i bona part de les cançons que va escriure, unes cent, continuen formant part del repertori britànic. Són peces fàcils d'escoltar però alhora elaborades; la veu flueix amb naturalitat i l'acompanyament acostuma a mantenir-se en un segon pla però no és en absolut trivial, al contrari.
Quilter va dedicar molta atenció a la poesia de William Shakespeare i els seus contemporanis. Aquest és el cas d'Edmund Waller (1606-1687), un poeta molt popular a la seva època que avui és més conegut per haver participat en una conspiració contra el govern que de poc no li costa el cap. Li van commutar la pena de mort per una multa i el desterrament, i va ser quan va marxar d'Anglaterra que va començar a escriure poesia.
Un dels pocs poemes seus que avui es recorden és el text de la nostra cançó,
Go, lovely rose
(Vés-hi, rosa encantadora), un poema d'amor. El poeta prega a la tímida donzella que estima que es deixi veure i admirar, però no ho fa directament sinó que hi envia com a ambaixadora algú tan bell com ella, una rosa. La missió de la rosa acaba amb el seu sacrifici: la seva mort ha de fer palès a la donzella com és de fugissera la bellesa.
Quilter va escriure amb aquest poema una de les seves millors cançons, publicada el 1922 dins el recull
Five English Love Lyrics, op. 24
(Cinc poemes lírics anglesos d'amor). L'escoltarem interpretada per John Mark Ainsley i Malcolm Martineau, espero que us agradi!
Go, lovely Rose!
Go, lovely Rose!
Tell her, that wastes her time and me,
That now she knows,
When I resemble her to thee,
How sweet and fair she seems to be.
Tell her that's young
And shuns to have her graces spied
That hadst thou sprung
In deserts, where no men abide,
Thou must have uncommended died.
Small is the worth
Of beauty from the light retir'd;
Bid her come forth,
Suffer herself to be desir'd,
And not blush so to be admir'd.
Then die! that she
The common fate of all things rare
May read in thee:
How small a part of time they share
That are so wondrous sweet and fair!
Vés, encantadora rosa!
Digues-li, a ella que malbarata el seu temps i el meu,
que ara ja sap,
perquè la comparo a tu,
com és de dolça i bella.
Digues-li, a ella que és jove
i defuig mostrar les seves gràcies
que si haguessis crescut
al desert, on cap home no s'hi està,
moriries sense que ningú et lloés.
És poc el valor
de la bellesa que no es mostra a la llum;
convida-la a venir,
a permetre's ser desitjada,
i a no enrojolar-se quan sigui admirada.
I llavors, mor! Que ella
el destí comú a totes les coses extraordinàries
pugui veure en tu:
com és de petit el temps que comparteixen, elles
que són tan maravellosament dolces i belles!
(traducció de Toni Arencón i Arias)
Mentre preparava aquesta entrada m'he adonat que Quilter és el desè compositor que s'estrena al blog aquest any, només set cançons han estat de compositors que ja havíem escoltat abans. I tenim altres noms nous en perspectiva... Què preferiu, autors menys coneguts, els autors més habituals, una mica de tot...? De moment us avanço que, si no hi ha cap canvi d'última hora, la setmana vinent escoltarem una cançó molt coneguda d'un compositor molt conegut.

I dimarts tindrem més cançons amb roses a Facebook i a Twitter. Que passeu una bona Diada de Sant Jordi!