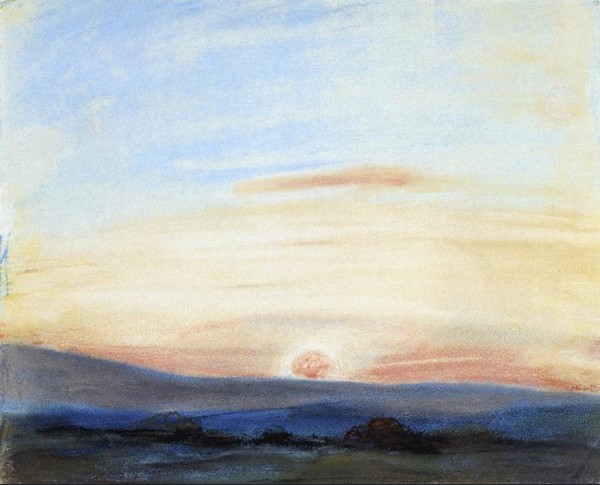 Estudi del cel a la posta del sol - E. Delacroix
Trends come and go, tastes change and it can be said about many different things: fashion, food or (alas!) Lied. A good example of a Lied that one day was really fashionable and today is almost unknown is
Lob der Tränen
[Praise of tears]. It is believed that Franz Schubert composed it during the first half of 1818 and it was published in 1822; It belongs, therefore, to his few works (approximately one hundred) that were published while he was still alive.
At the end of the 19th century, when Edition Peters started publishing Schubert's Lieder, a criterion of popularity prevailed.
Lob der Tränen
was the first out of the seven volumes, immediately after the three great cycles,
Erlkönig
,
Gretchen am Spinnrade
,
Heidenröslein
, and
Der Wanderer
, D. 489; that is, it was, back then, one of Schubert's best-known songs. Nowadays, the popularity of a lied is no longer measured by the edition of the scores but by the recordings. And we can hardly find recordings of
Lob der Tränen
, beyond those of the complete or extensive editions.br> Why did this lieder fall from performers and audiences grace? Must probably because today, masterpieces aside, we prefer lieder that have more strength or are more original. Lob der Tränen does not fit into any of these categories nor is a masterpiece; In fact, it fits into a category that today is somehow old-fashioned: Sentimentalism, that's to say, what is called
Empfindsamkeit
in German, "the tendency to be lightly affected by mild feelings" (we talked about this
literary current
some time ago). Today, we might need stronger motivators to stay focused on something (please forgive my dime-store psychology) and the language of this kind of lieder becomes less attractive.
Like any other songs of this style we've listened so far, for instance,
Furcht der Geliebte
,
Die Mainacht
or
Nähe des Geliebten
,
Lob der Tränen
has something special; maybe the phrase of the piano before each stanza, maybe the lovely last verses (even repeated!). I'm not quite sure, but it's very charming. The poem is by
August Wilhelm von Schlegel
, whom we've known here as a Shakespeare's translator; this time, the poem is original, written in 1807 and published in 1808 in the magazine Prometheus as Lied. The poem has four stanzas; the Lied is strophic and usually, only the first two stanzas are sung. One reason is common, to avoid the listener's weariness (you know, "less is more"); another one, that Schubert's music fits perfectly to the first stanzas but not to the last. We will listen to this short version performed by Matthias Goerne and Graham Johnson; please, pay attention to the song because it's a very nice one.
One of this piece's admirers was Franz Liszt, who discovered Schubert's Lieder in Paris, thanks to the Belgian musician Chrétien Urhau. In no time, he made his work widely known; often, by accompanying famous singers such as Adolphe Nourrit in Paris or Benedikt Randhartinger in Vienna but, above all, with his transcriptions. Last week, we listened to a song from Liszt and I briefly mentioned his tours, between 1839 and 1847; It wouldn't be an overstatement to compare the "Liszt fever" in those tours with Elvis Presley, The Beatles or Justin Bieber's fever. His fans used to wear cameos with his portrait; if a piano string broke (quite common at the time), they made bracelets with it and they also kept hairs found on the ground or his cigarette butts.
Liszt succeeded, and if Liszt succeeded, Schubert also did, because Liszt's concerts used to include Lieder's transcriptions. He wrote more than fifty, most of them during the period 1838-39; the publishers were delighted with sales and many pianists also added those works into their programs. At a time when the only way to listen to music was a public or private concert, the transcriptions of Schubert's Lieder greatly favoured the acceptance of his work. Needless to say that Liszt's contribution to this task didn't end with transcriptions; he conducted some of his symphonies and operas and took care of his sonatas' edition. The composer and pianist adored Schubert's work; here his words in a letter to the pianist and pedagogue Sigmund Lebert, in 1868:
O never-resting, ever-welling genius, full of tenderness! O my cherished Hero of the Heaven of Youth! Harmony, freshness, power, grace, dreamings, passion, soothings, tears and flames pour forth from the depths and heights of thy soul, and thou makest us almost forget the greatness of thine excellence in the fascination of thy spirit!
Trends come and go, tastes change... and Liszt's beautiful and famous transcriptions vanished from the repertoire. They weren't even published in the first comprehensive edition of his work, at the beginning of the 20th century (weren't they considered representative enough?) and today, it's difficult to listen to them in concerts, unless performed as encores.

Lob der Tränen was one of the first Lieder arranged by Liszt, in 1837, and was published in a first collection of four songs, in 1839; it's catalogued as S. 557. I'm also sharing it here, performed by pianist Jorge Bolet, to complement the song; It's usually remarked that Liszt gave his character to these pieces while respecting the spirit of Schubert's music and this is a very good example of that.
Lob der Tränen, D. 711

Lob der Tränen, S. 557

Laue Lüfte,
Blumendüfte,
Alle Lenz- und Jugendlust;
Frischer Lippen
Küsse nippen,
Sanft gewiegt an zarter Brust;
Dann der Trauben
Nektar rauben;
Reihentanz und Spiel und Scherz:
Was die Sinnen
Nur gewinnen:
Ach! erfüllt es je das Herz?
Wenn die feuchten
Augen leuchten
Von der Wehmuth lindem Thau,
Dann entsiegelt,
Drin gespiegelt,
Sich dem Blick die Himmels-Au.
Wie erquicklich
Augenblicklich
Löscht es jede wilde Glut!
Wie vom Regen
Blumen pflegen,
Hebet sich der matte Muth.
Mild breezes,
The scent of flowers,
All the joy of spring and youth,
Fresh lips,
Swift kisses,
Being gently cradled at a tender bosom;
Then the grape's
nectar is stolen,
Round dances and games and jokes:
Whatever the senses
can gather:
Ah, will it ever fulfill the heart?
When wet
eyes gleam
from the gentle dew of melancholy,
then unsealed,
and therein mirrored,
is a glimpse of Heaven's field.
How joyfully,
in an instant,
is extinguished every wild passion;
just as from the rain
flowers are nurtured,
so are dull spirits lifted.
(translation by Emily Ezust)