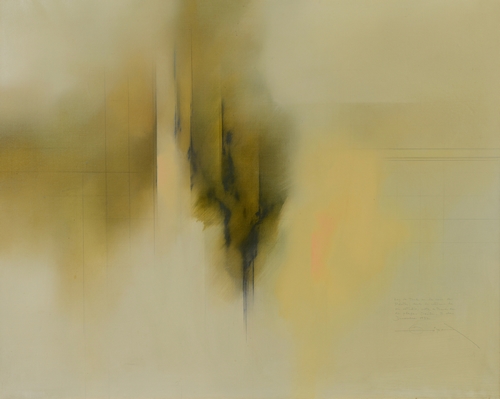 Plaza de Pilatos I - F. Zobel
According to weathermen, when this article sees the light of day, Autumn will have arrived at Barcelona. Or rather, Autumn will finally have arrived at Barcelona. So long sandals, strap T-shirts and shorts! Welcome jackets, neck scarves and quilt on our beds. Just thinking about it makes me happy and puts me in the mood for Autumn, so I chose a song to celebrate it. Do you remember that a long, long time ago, we listened to a song called
The Singer
? With that beautiful image of melodies becoming coloured bubbles? That was almost four and a half years ago and since then, Peter Warlock hasn't come back to Liederabend; The more I listen to him, the more I like him, and today we're listening to one of his songs, inspired by the Autumn.
As I said in that old post (by the way, my first posts on Liederabend were so brief!), Peter Warlock was the pseudonym of Philip Heseltine, an expert on Elizabethan music, music critic, editor and, of course, composer. In his time, however, Heseltine was mostly known for his private life (not that private, I guess), his eccentric behaviour and his continuing objections to the establishment. As a music critic, he was also irreverent and corrosive, always faced up to academic composers. This profile, doesn't remind you of anybody? Hugo Wolf, perhaps? When Heseltine published his first music works, Heseltine chose a pseudonym (which, nowadays, identifies him as a composer), most likely so as people wouldn't relate him to the character he had become. Or perhaps, he didn't want to be related to that music critic who didn't spare anybody; maybe by using a pseudonym he could avoid some ill feelings... (Wolf didn't think of this trick!) Despite their precautions, sooner or later both names were related and it seems that his character outshined his music for a long time. Warlock was a very complex person and, according to recent studies, he most likely suffered personality disorders.
Talking about his musical work, he wrote around 120 songs for voice and piano; the one we're listening today is a good example of the pearl that can be found among them. Warlock made a lot of things and was easily distracted; his friends recommended him to choose between literature or music and to focus. For a relatively long time, he was able to focus on music; between 1921 and 1924 he lived in his family house in Wales and there, he composed his best songs. Although he left London for money reasons, Warlock loved that land very much and, at least for some time, he had some stability. I'm aware of saying a "relatively long time"; Unfortunately, those three years meant a really long time, because Warlock died very young, at thirty-six, of coal gas poisoning at home. The subsequent inquest wasn't able to determine whether it was accident or suicide; Warlock and Wolf not only shared a controversial, vehement character but also long periods of depression.
The song I suggest this week, Autumn Twilight, was written in 1922; If I'm not wrong, while the poet Arthur Symons was visiting his friend Warlock in Wales. The poem, however, was written many years before: it was published by Simons in 1895, in a volume called London Nights. The verses describe a sunset, the night falls and a two lovers take advantage of the shadows to go for a walk alone; Warlock's song is contemplative and elegant but at the same time, there is something disturbing at the piano that never stops and contrasts with the singer's voice. It's easy to imagine this miniature, the lovers wandering embraced, but I cannot help wondering why they are anxious.
I hope you like this song by Peter Warlock; the performers are Andrew Kennedy and Simon Lepper. Welcome, Autumn!
Autumn Twilight

The long September evening dies
In mist along the fields and lanes.
Only a few faint stars surprise
The lingering twilight as it wanes.
Night creeps across the darkening vale;
On the horizon tree by tree
Fades into shadowy skies as pale
As moonlight on a shadowy sea.
And down the mist-enfolded lanes,
Grown pensive now with evening,
See, lingering as the twilight wanes,
Lover with lover wandering.