Since September 2013 I'm posting regularly in English in addition to Catalan. If you want to read this post translated to English, please use the automatic translator on the right column.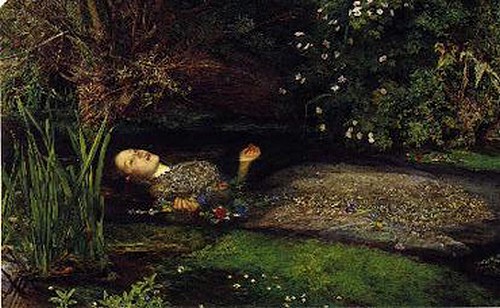 Ofèlia - J. Millais
Que sense poemes no hi hauria cançons és una obvietat, tot comença amb un poema. El que potser no ens hem aturat a pensar és que sense les cançons no coneixeríem bona part dels poemes que han inspirat els compositors; potser sí els més coneguts, però, i la resta? Confeso que la major part dels poetes que apareixen per aquí eren per a mi uns desconeguts abans de trobar-los lligats als noms dels compositors. Les cançons també són, doncs, un vehicle per difondre la poesia, i la que sentirem avui n'és un bon exemple: Damunt de tu, només les flors, segurament la cançó catalana més coneguda i més cantada arreu.
Damunt de tu, només les flors
pertany al cicle
Combat del somni
, de Frederic Mompou, del qual vam escoltar fa uns mesos
Aquesta nit un mateix vent
. Llavors ja vam comentar que dels vint sonets inclosos al poemari de Josep Janés (molt més conegut per la seva tasca d'editor que per la seva breu obra literària) Mompou va compondre cinc cançons al llarg de gairebé deu anys;
Damunt de tu, només les flors
va ser la primera, escrita el 1942, i es correspon amb el novè poema del recull. No és estrany que hagi estat la cançó del cicle amb més recorregut, és una cançó bellísima que acompanya amb serenitat i dolçor el dolor del poeta, la tragèdia de la mort d'una persona jove. Tan trista que no podia faltar a la nostra llista de
cançons més tristes
.
Volia que l'escoltéssim en la versió de Josep Carreras i Vincenzo Scalera però per problemes tècnics de moment no podrà ser, així que serà la de Montserrat Caballé i Alícia de Larrocha; quan se solucionin els problemes afegiré la de Carreras i així la tindrem en doble versió, soprano i tenor.
Damunt de tu només les flors 
Editat (16/4/2014) No vaig poder recuperar la cançó amb Josep Carreras i Vincenzo Scalera però avui la Fundació Frederic Mompou ha compartit avui (aniversari del neixement del compositor) a la seva pàgina de Facebook aquest vídeo amb Josep Carreras i Alicia de Larrocha interpretant Damunt de tu només les flors i Jo et pressentia com la mar. Veureu que la qualitat de la imatge està molt lluny de ser l'òptima però tot i així paga la pena. I després de Carreras i Larrocha, una sorpresa!
Damunt de tu, només les flors.
Eren com una ofrena blanca:
la llum que daven al teu cos
mai més seria de la branca;

Tota una vida de perfum
amb el seu bes t'era donada.
Tu resplendies de la llum
per l'esguard clos atresorada.

Si hagués pogut ésser sospir
de flor! Donar-me com un llir,
a tu, perquè la meva vida

s'anés marcint sobre el teu pit.
I no saber mai més la nit
que al teu costat fóra esvaïda.