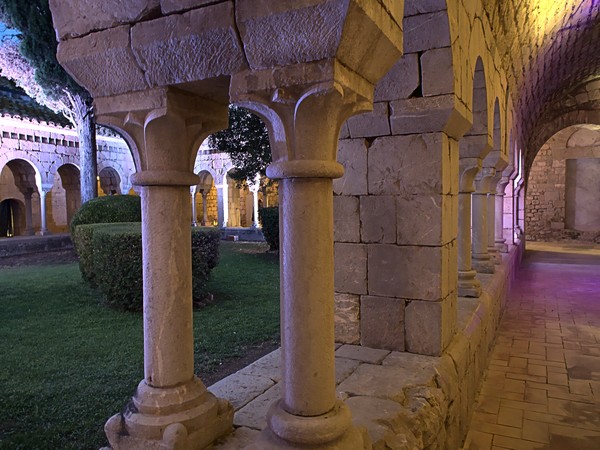 If the Schubertíada is programming the three great Schubert's cycles sung by three baritones, I have to start with this, even if it is not the beginning. Three works that I never get tire of listening, performed by three voices that I would never miss, even if they sing La bien pagá. The young Konstantin Krimmel, who amazed me at his Schubertíada debut in December 2019 (and I wasn't the only to be amazed) will sing Die schöne Müllerin accompanied by Daniel Heide; Florian Boesch, one of the most beloved singers in this place, made his debut in Vilabertran last year precisely with this cycle, and he will be back this year, with the great Malcolm Martineau, to perform Schwanengesang. As you know, we usually have time for some more songs after this cycle, and Boesch will also sing a Lieder group with Goethe's poems: the harpist's songs, Grenzen der Menschheit and one of my favorites, Prometheus. Finally, Schuen and Daniel Heide (I can't say enough!) will close with Winterreise their performance of the three cycles, that started in 2018. Please note the date of the concerts: respectively, 20, 21 and 13 August.
Andrè Schuen gives me the opportunity to go to the beginning, because the Schubertíada 2021 has a spring/summer season and will start in a week, on Thursday 18 in L'Auditori, with this fantastic baritone singing Die schöne Müllerin. There are some spare tickets left, just saying. To finish with the three cycles, one more concert, this one in Galicia, in collaboration with the Festival Bal y Gay: on 16 May, in the cathedral of Mondoñedo (Lugo), Christoph Prégardien and Daniel Heide will perform Winterreise.
The three remaining concerts of the Schubertíada Barcelona will take place at the Palau de la Música Catalana, a minicycle of three recitals dedicated to Schumann in harmony or in contrast, let's see, with composers from the south. Thus, Natalie Pérez and Daniel Heide will present on 5 May a programme that begins with Frauenlieben und -leben by Schumann and then travels from West to that East that German composers (according to Goethe's Divan, in this case) and French composers imagine in such different ways. On 27 May, Fatma Said and Malcolm Martineau will perform a new East/West programme, with the Liederkreis by Eichendorff as the main work, and on 7 June, Anna Alas and Alexander Fleischer will combine the Gedichte der Königin Maria Stuart and the Lieder von Elisabeth Kulmann with works by Catalan composers.
So far we have mentioned Daniel Heide on five occasions, he will certainly be the lead pianist at the Schubertíada this year. We will also listen to him at the fourth edition in Valdegovia/Gaubea (Basque Country) where he'll accompany two singers: Marie Seidler on 16 July, with a very varied recital with nine composers, and Sheva Tehoval on 17 July, with a program that joins French and German composers. There will be a third recital of song in Valdegovía: Carlos Mena and Daniel Zapico will perform works by composers from the 17th and 18th centuries.
We finish spending our summer at the Empordà. I've already told you about three recitals in Vilabertran, but, as you can imagine, there will be more Art Song. From te 17 August on, there will be five recitals in a row. The first one with the wonderful Katharina Konradi, also accompanied by Daniel Heide; they will perform Fauré, Strauss, Mozart and Schubert; the soprano likes to include lesser-known composers in her programmes, and she will present this time the Judische Lieder by Mieczysław Weinberg. I hope I can introduce this cycle here as well. On Wednesday 18, we'll enjoy one more great duo, Christoph Prégardien and Julius Drake, with a beautiful program: the Wesendonck Lieder (whatever Wagner said, they're also wonderful when sang by gentlemen), five of Duparc's seventeen songs and the gorgeous Liederkreis by Eichendorff. Julius Drake will also be our pianist on Thursday 19, this time accompanying the Schubertíada debut of Julia Kleiter; they will present lieder by Liszt, Mahler, Wolf and Strauss.
I've already talked about the two remaining concerts this week, so let us go to the last week of the Schubertíada, the last three recitals. The Kallias Ensemble is a perfect option to perform cycles such as the Spanisches Liederspiel and the Spanische Liebeslieder, which are a joy; we will listen to them on Tuesday 24. Our experience tells us that we shouldn't miss a young singer introduced by Wolfram Rieger; on Saturday 28, he will accompany the debut concert of Ema Nikolovska, with a program that includes eight different composers and really fits her expressiveness. Did you ever noticed that these elaborate programs, with many composers, are generally sung by female singers? To close the song recitals at the Schubertíada, one more young duo will make her debut: Esther Valentin and Anastasia Grishutina. However, not in Vilabertran, but in a nearby village, Vilajuïga, known by its spring water; the Schubertíada has there a new venue, the Mistery Space at Aigua Vilajuïga, and Valentin and Grishutina vill devote their concert to water, of course.
And what about Matthias Goerne, I didn't mention him yet. Maybe he's not coming, this year? Of course he's coming! And in a new format: the baritone, organist Juan de la Rubia and violinist María Dueñas will open the Schubertíada at the Empordà on 12 August, at the Basilica of Santa Maria de Castelló d'Empúries. We don't know all the details of the programme, but we know that there will be works by Bach and Brahms's Vier ernste Gesänge.
The Schubertíada 2021 has been launched today (if you are reading this on Thursday, 11 March), and that's why I posted one day later this week; I wanted to share it with you immediately. All in all, there will be eighteen song recitals; there will be twelve more concerts, of which I will only tell you that Imogen Cooper and Nicholas Angelich will be back. As always, you can find all the information on the Schubertíada website.
To illustrate this long, full of information article, I suggest that we listen to a light, charming lied by Schubert, with poem by Ludwig Kosegarten, Alles um Liebe. It's one of the songs that Katharina Konradi and Daniel Heide will perfom in Vilabertran.
I really hope we can meet at the Schubertíada!
Alles um Liebe
Was ist es, das die Seele füllt?
Ach, Liebe füllt sie, Liebe!
Sie füllt nicht Gold noch Goldes werth;
Nicht, was die schnöde Welt begehrt,
Sie füllt nur Liebe, Liebe!
Was ist es, das die Sehnsucht stillt?
Ach, Liebe stillt sie, Liebe!
Sie stillt nicht Titel, Stand noch Rang,
Und nicht des Ruhmes Schellenklang;
Sie stillt nur Liebe, Liebe!
Gern geb' ich, was ich hab' und bin,
Gern geb' ich's hin um Liebe.
Des Reichthums bunter Seifenschaum,
Der Wollust Rausch, des Ruhmes Traum,
Was frommt es ohne Liebe!
Please follow this
link
if you need an English translation.
Related articles