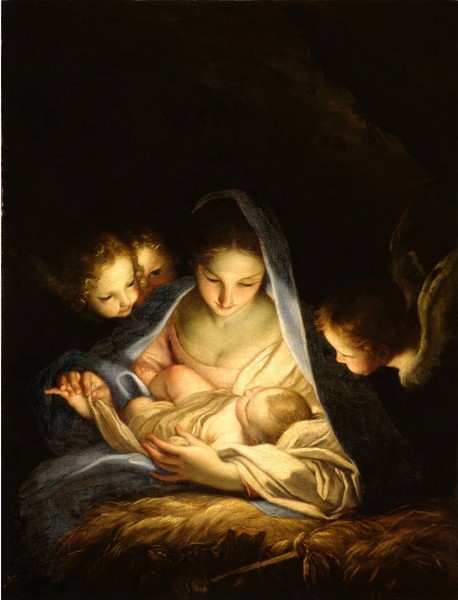 La santa Nit - C. Maratte
Benvolguts, ja tenim aquí el 2020. Que tingueu un bon any, si pot ser amb la millor música.
Els qui llegiu l'entrada el matí que surt publicada segurament estareu immersos en valsos i polques i més adormits que desperts; com que hi ha un moment per a cada cosa, gaudiu de la família Strauss i ja arribarà el moment de gaudir de la cançó tan bonica que us porto per tancar les entrades nadalenques d'aquesta temporada.
Si vau escoltar King David fa ja sis mesos (com passa el temps!) no caldrà que us insisteixi gaire perquè escolteu Before dawn, una altra cançó del mateix compositor, Herbert Howells. Com que pertany també al mateix cicle, Garland for de la Mare (amb poemes de Walter de la Mare), us remeto a aquella entrada si voleu saber-ne algun detall més.
Me'n vaig guardar per a aquesta entrada breu una cançó de Nadal; el poema ens descriu una nit d'hivern, grisa i glaçada. Però l'albada portarà la primavera, perquè Jesús és nat. La sòbria cançó de Howells ens transmet el fred intens i el silenci, tant com l'emoció de l'escena que es viu al pessebre. Espero que us agradi, l'escoltarem interpretada per Catherine Pierard i Julius Drake.
Before dawn
Dim-berried is the mistletoe
With globes of sheenless grey,
The holly mid ten thousand thorns
Smoulders its fires away;
And in the manger Jesus sleeps
This Christmas Day.
Bull unto bull with hollow throat
Makes echo every hill,
Cold sheep in pastures thick with snow
The air with bleating fill;
While of his mother's heart this Babe
Takes His sweet will.
All flowers and butterflies lie hid,
The blackbird and the thrush
Pipe but a little as they flit
Restless from bush to bush
Even to the robin Gabriel hath
Cried softly "Hush!"
Now night's astir with burning stars
In darkness of the snow;
Burdened with frankincense and myrrh
And gold the Strangers go
Into a dusk where one dim lamp
Burns softly, lo!
No snowdrop yet its small head nods
In winds of winter drear;
No lark at casement in the sky
Sings matins shrill and clear;
Yet in this frozen mirk the Dawn
Breathes, Spring is here!
El vesc amb baies es veu esmorteït,
amb globus grisos i mats;
el grèvol, entre deu mil espines,
mostra els seus focs que cremen.
I a la menjadora, dorm Jesús
aquest dia de Nadal.
Els bous es parlen amb bramuls profunds
que ressonen als turons;
ovelles tranqui·les en pastures nevades
omplen l'aire de bels;
mentre aquest Nen, del cor de la mare
treu la seva dolça voluntat.
Totes les flors I les papallones romanen ocultes,
la merla I el tord
piulen a penes quan voletegen
sense descans d'arbust en arbust.
Fins i tot al pit-roig, Gabriel,
li ha dit fluixet: calla!
Ara la nit bull amb estels encesos
en la foscor de la nit;
carregats amb encens, mirra
i or marxen els Forasters
en un capvespre on una llum tènue
crema suaument, oh joia!
Cap floc de neu capcineja
en els vents de l'hivern ombrívol;
cap alosa al marc del cel
canta les matines amb veu aguda i clara.
Però en aquesta foscor glaçada, l'aurora
respira, la primavera és aquí!
Articles relacionats