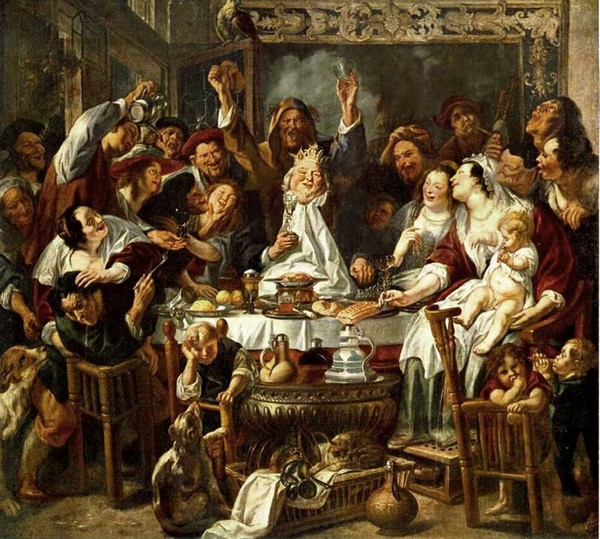 El rei beu - J. Jordaens
Benvolguts, aquests darrers dies he tingut una relació massa estreta amb els virus que pul·lulen per arreu. Tinc al damunt de la taula un article a mig escriure, el pobre em demanava una atenció que no li podia donar, així que queda pendent per a un altre dia i avui tindrem un moment musical (i van sis), la solució per a les emergències.
Fa un parell de setmanes us parlava de les cançons tradicionals que havia harmonitzat Beethoven i us proposo d'escoltar-ne una altra. Aquest cop és escocesa, amb text de William Smyth; es tracta de Come fill, fill, my good fellow!, op. 138/13, interpretada per Andrè Schuen i el Trio Boulanger. És una cançó de taverna; no ho diuen, que el whisky va bé per als refredats?
Come fill, fill, my good fellow!

Come fill, fill, my good fellow!
Fill high, high, my good Fellow,
And let's be merry and mellow,
And let us have one bottle more.
When warm the heart is flowing,
And bright the fancy glowing,
Oh, shame on the dolt would be going,
Nor tarry for one bottle more!
My Heart, let me but lighten,
And Life, let me but brighten,
And Care, let me but frighten.
He'll fly us with one bottle more!
By day, tho' he confound me,
When friends at night have found me,
There is Paradise around me
But let me have one bottle more!
So now, here's to the Lasses!
See, see, while the toast passes,
How it lights up beaming glasses!
Encore to the Lasses, encore.
We'll toast the welcome greeting
Of hearts in union beating.
And oh! For our next merry meeting,
Huzza! Then for one bottle more!
Vine, omple, omple, el meu bon compare!
Omple amunt, amunt, el meu bon compare!
que sigui alegre i anyenc,
porta una altra ampolla.
Que el cor flueixi càlid
i l'esperit brilli,
oh, vergonya pel tanoca que marxi
sense esperar una altra ampolla!
Cor meu, deixa tan sols que m'alegri,
vida, deixa tan sols que exulti,
problemes, deixeu que us defugi!
Ell ens portarà corrents una altra ampolla!
Per més que el dia em confongui,
quan trobo els amics de nit
hi ha el paradís entorn meu
però porteu-me una ampolla més!
I ara, aquí hi ha les noies!
Mireu, mireu, mentre brindem
com brillen, els gots radiants!
Més noies, més!
Brindarem per l'alegre reunió
dels cors que bateguen plegats.
I, oh! També per la nostra propera alegre trobada.
Visca! Porteu una ampolla més!