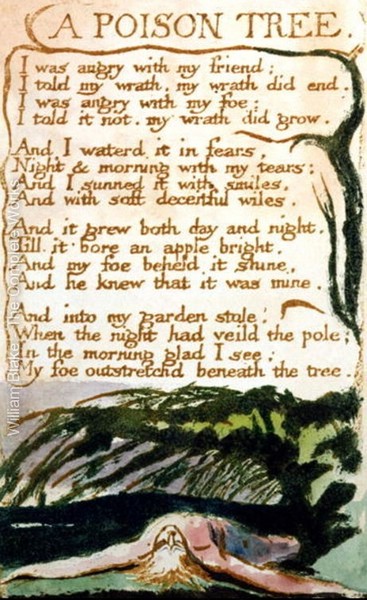 Un home està furiós amb el seu enemic. No hi parla, perquè només parla amb els amics. La seva ira creix i ell no fa res per evitar-ho, ans al contrari: dia a dia, la nodreix amb les seves llàgrimes i els seus somriures falsos. Fins que dóna fruit: una poma tan apetitosa com verinosa. Perquè l'odi enverina tot el que toca. L'home sap que el seu enemic cobejarà la poma. No haurà d'esperar gaire per descobrir, feliç, el seu cadàver al jardí.
Les cançons ens parlen sovint d'amor, de tristesa, d'esperança, de solitud, de pau, ens expliquen de vegades històries divertides i més sovint drames terribles. Situacions on ens veiem reflectits perquè n'hem viscut de similars o amb les que empatitzem. Fins que ens trobem amb una cançó que parla d'odi, com la que va compondre Benjamin Britten a partir d'
A Poison Tree
, un poema de William Blake publicat el 1794 dins el recull
Songs of Experience
. Com sempre, teniu el text immediatament a sota del reproductor d'àudio, però aquest cop hi és també encapçalant l'article, tal i com el va il·lustrar el mateix Blake.
És de les cançons que més difícil se'm fa d'escoltar, una cançó que parla d'odi i la satisfacció que causa un assassinat. No és perquè no hi pugui empatitzar (que no puc); és perquè l'odi em fa por, ho reconec. Em fa por com encega, embruteix i destrueix, i em fa por que sigui tan present a les nostres vides. Val a dir que Britten va fer una gran feina amb el poema, perquè la cançó expressa amb cruesa els sentiments del narrador; les repeticions de la frase
my wrath did grow
(la meva ira creixé) són cada vegada més amenaçadores i el triomf que se sent en el vers
In the morning glad I see
(Al matí vaig veure content) és demolidor; quan he escoltat
A Poison Tree
a un recital m'ha impressionat, recordo un cop que em vaig arribar a sobresaltar. Em refereixo a la segona versió de l'obra, abans he parlat d'una cançó de Britten quan en realitat són dues. Blake és un dels poetes més constants en les cançons del compositor, ja des de la seva adolescència, i el 1934 va musicar aquest poema; aquesta primera versió, però, no es va estrenar fins després de la mort del compositor. El segon cop que va fer servir el poema va ser trenta anys després, el 1965, quan el va incloure dins els
Songs and Proverbs of William Blake
.
La setmana passada parlàvem de com triaven els compositors els poemes per a les seves cançons. En aquest cicle ens trobem amb un cas peculiar: no va ser Britten qui va triar els textos sinó el tenor Peter Pears, la seva parella. Per què devien fer-ho així? Potser Britten confiava que li agradarien els textos que triés Pears o potser era una mena de desafiament compondre a partir d'uns textos que no havia triat ell, no ho sé. El resultat és un cicle molt exigent per al cantant, tant per la seva partitura com pel seu contingut emocional; són set cançons, cadascuna de les quals va precedida per un proverbi, que reflexionen sobre la societat de l'època a partir de les reflexions de Blake sobre la seva; nosaltres, cinquanta anys després que Britten escrivís el cicle, també hi hauríem de reflexionar...
Fa gairebé sis anys que vam escoltar per primer cop una cançó d'aquest cicle. Va ser en homenatge a Dietrich Fischer-Dieskau poc després de la seva mort, perquè Britten el va escriure
per al seu amic Dieter
. Llavors feia només tres mesos que jo havia començat a publicar en el blog i us vaig advertir que potser trobaríeu la cançó,
The Chimney-Sweeper
(L'escura-xemeneies), més difícil d'escoltar que les que havíem escoltat anteriorment; fins llavors només havíem sortit un cop de la comoditat del segle XIX. Penso que a aquestes alçades, quan ja hem escoltat una mica de tot, ja no se us farà estranya cap música; si sou lectors veterans i teniu bona memòria potser podreu comparar les vostres impressions llavors i ara.
Uns haig de dir que
Songs and Proverbs of William Blake
és d'aquells cicles que hauríem d'escoltar sempre complet, perquè quan en separes una cançó esta perdent part de la seva força; de fet, se sol interpretar tot seguit, sense pauses entre les peces. Però bé, si aquí ens ho permetem amb
Winterreise
, ens ho podem permetre amb qualsevol altre cicle. Us diria que gaudíssiu de
A Poison Tree
, sempre i quan interpretem "gaudir" en sentit ampli; recordo que algú va descriure aquesta cançó com una esgarrifança. Com vam fer amb
The Chimney-Sweeper
, n'escoltarem també el seu Proverbi, el sisè, que en aquest cas és brevíssim. He triat per a compartir amb vosaltres una versió enregistrada en directe, la de Simon Keenlyside i Malcolm Martineau.
Proverb VI & A Poison Tree

Proverb VI

The bird a nest, the spider a web, man friendship.
L'ocell el niu, l'aranya la teranyina, l'home l'amistat.

A Poison Tree

I was angry with my friend:
I told my wrath, my wrath did end.
I was angry with my foe:
I told it not, my wrath did grow.
And I water'd it in fears,
Night and morning with my tears;
And I sunned it with smiles,
And with soft deceitful wiles.
And it grew both day and night,
Till it bore an apple bright.
And my foe beheld it shine,
And he knew that it was mine.
And into my garden stole
When the night had veil'd the pole,
In the morning glad I see
My foe outstretch'd beneath the tree.
Estava enfurit amb el meu amic:
vaig parlar de la meva ira, la meva ira passà
Estava enfurit amb el meu enemic:
No en vaig dir res, la meva ira creixé.
I la vaig regar amb pors,
dia i nit amb les meves llàgrimes;
i l'assolellava amb somriures
i amb suaus i falsos ardits.
I creixé de dia i de nit,
fins que fruità una poma lluent,
i el meu enemic la veié brillar
i sabé que era meva.
I entrà al jardí per robar-la
quan la nit velà el tronc;
al matí vaig veure, content,
el meu enemic estès sota l'arbre.