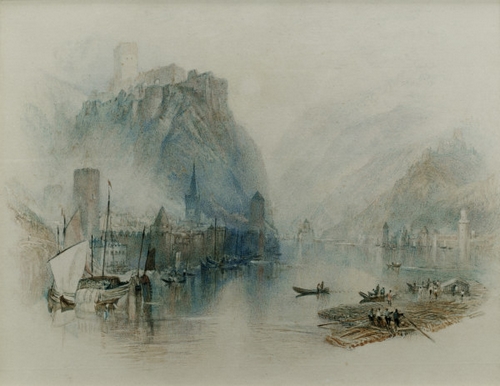 [Castells al Rin - W. Turner
A escola ens explicaven que el Rin era un dels rius més llargs d'Europa, que la travessava des dels Alps fins al mar del Nord, que va ser una de les rutes comercials més importants ja des de l'imperi romà, que feia frontera entre aquest estat i aquell altre i passava per aquí i per allà; la meva capacitat per oblidar els mapes només és comparable a la d'oblidar dinasties i les seves dates. El que no ens explicaven, perquè això si ho recordaria, és que va ser un dels símbols del Romanticisme. Ho tenia tot per ser-ho: les seves muntanyes, valls, gorges, boscos i boires eren aquella natura autèntica i inaccessible tan desitjada. Els seus castells en ruïnes evocaven el passat, aquell temps dels herois medievals. No hi faltaven tampoc les llegendes vinculades a punts concrets del riu, com la de la Loreley o la de Heinrich i Konrad, els germans enemistats per amor. En definitiva, el Rin, especialment el que es coneix com a Mittelrhein, uns 600 km entre Bingen i Bonn, representava el món idealitzat pel Romanticisme i es va convertir en personatge de l'obra de novel·listes, poetes, pintors i músics.
De fet, els primers que van "descobrir" el Rin van ser els anglesos (hi arribaven des dels seus viatges per Itàlia), perquè també tenia tots els ingredients de la novel·la gòtica; la pionera del gènere,
The castle of Otranto
, es va publicar el 1764 i el viatger i col·leccionista William Beckford ja parlava el 1783 de la seva admiració pel paisatge del riu. Després van venir, per exemple, Lord Byron i
Childe Harold's Pilgrimace
, Mary Shelley i
Frankestein
o William Turner i quadres com el que il·lustra aquesta entrada. Entre els alemanys, tot va començar amb amb August i Friedrich Schlegel i va continuar amb Goethe, Eichendorff, Hölderlin, Kleist, Brentano o Heine. I com us podeu imaginar, darrera d'aquests poetes van venir els compositors.
Si deixem de banda Wagner, que Déu n'hi do l'imponent homenatge que va fer al Rin, l'aparició musical més estel·lar del riu la devem a Schumann i Heine, amb
Im Rhein, im heiligen Strome
, el sisè lieder de
Dichterliebe
, que escoltarem la temporada vinent; ja sabeu que és l'únic cicle que estem fent per ordre i no és qüestió de trencar ara la disciplina. Avui escoltarem un altre lied amb el Rin com a protagonista,
Berg' und Burgen shau'en herunter
, que ens servirà, a més, per presentar un dels cicles més coneguts de Schumann, una preciositat que en cinc anys llargs no he tingut temps d'encetar. No tinc perdó.
Ja hem parlat abastament del
1840
, el
Liederjahr
de Schumann, i de com de cop i volta va sentir la necessitat d'escriure cançons. Aquesta febre li va començar al febrer, precisament amb aquest cicle, el
Liederkreis
, op. 24. Tan bon punt el va tenir acabat el va enviar al seu editor, abans fins i tot que a la Clara; aquest cicle es va convertir en la seva primera obra per a veu editada. Per a les seves primeres cançons "oficials" (n'havia escrit un grapat uns anys abans), va triar poemes de Heinrich Heine, de
Buch der Lieder
, el mateix llibre d'on va extreure uns mesos després els de
Dichterliebe
i d'altres obres. En aquest cas els nou poemes són de
Junge Leiden
, el primer quadern de la col·lecció, i parlen, sobretot, d'absències i esperes. No costa gaire veure-hi relació amb la situació de Schumann, separat de Clara per imposició del seu futur sogre, el Sr. Wieck, però tampoc cal portar el paral·lelisme cançó a cançó, no tenim motius per imaginar el compositor despitós per Clara, com ho estava el poeta per la seva cosina Amalia, i tampoc cal agafar-s'ho tot al peu de la lletra, cal tenir en compte sempre la ironia de Heine.
Berg' und Burgen schau'n herunter
és el setè lied del
Liederkreis
. El poeta s'ha cansat d'esperar la seva estimada i ha decidit marxar; en aquest lied compartim el seu viatge pel Rin (en el cas de Heine, la presència d'aquest riu anava més enllà del context cultural, perquè ell era fill de Düsseldorf; formava part del seu paisatge). És un viatge plàcid, en un dia de sol, tot seria perfectament bucòlic si no fos perquè el poeta compara l'atractiva superfície del riu i la foscor i la mort que amaguen les seves aigües profundes, amb el dolç somriure de l'estimada i la malícia que guarda al cor. Schumann compon una cançó estròfica (estròfica pura pel que fa a les tres primeres estrofes, lleugerament diferent la quarta), amb una melodia que té un tranquil ritme de barcarola. Schumann coneixia prou bé els lieder de Schubert, no sé si devia tenir present
Auf dem Wasser zu singen
, un altre viatge en barca amb un ritme molt similar. Aquesta melodia que recorda tant una cançó de bressol no ens revela en cap moment el conflicte del poeta, els seus pensaments tan poc en harmonia amb l'escena. L'acompanyament és més inquiet, també a les primeres estrofes, purament descriptives. És com si, des del primer moment, Schumann ja ens mostrés a la part de la veu la tranquil·la superfície i el dolç somriure i a la part del piano el perill del riu i la malícia del cor. O així és com ho interpreto jo.
És una cançó preciosa, com tot el cicle. Si no el coneixeu, és una bona ocasió per fer-ho. I si el coneixeu, quant de temps fa que no l'escolteu? Us en proposo un enregistrament recent que m'agrada molt, el de Florian Boesch i Malcolm Martineau.
Berg' und Burgen schau'n herunter

Berg' und Burgen schaun herunter
in den spiegelhellen Rhein,
und mein Schiffchen segelt munter,
rings umglänzt von Sonnenschein.
Ruhig seh' ich zu dem Spiele
goldner Wellen, kraus bewegt;
still erwachen die Gefühle,
die ich tief im Busen hegt'.
Freundlich grüssend und verheißend
lockt hinab des Stromes Pracht;
doch ich kenn' ihn, oben gleißend,
birgt sein Innres Tod und Nacht.
Oben Lust, im Busen Tücken,
Strom, du bist der Liebsten Bild!
Die kann auch so freundlich nicken,
lächelt auch so fromm und mild.
Muntanyes i castells esguarden cap aquí baix
al clar mirall del Rin
i la meva barqueta navega alegre,
envoltada de resplendent llum de sol.
Tranquil contemplo el joc
de les daurades ones arrissant-se;
silents, es desperten els sentiments
que guardava al fons del cor.
Amb cordials salutacions i promeses,
l'esplendor del riu atrau cap baix;
però jo el conec, per sobre resplendeix
i a dins, mort i nit amaga.
Al damunt voluptat, en el cor malícia,
oh riu, tu ets la imatge de la meva estimada!
Ella també pot assentir cordial
i somriu igualment, tan devotament i dolça.
(traducció de Salvador Pila)