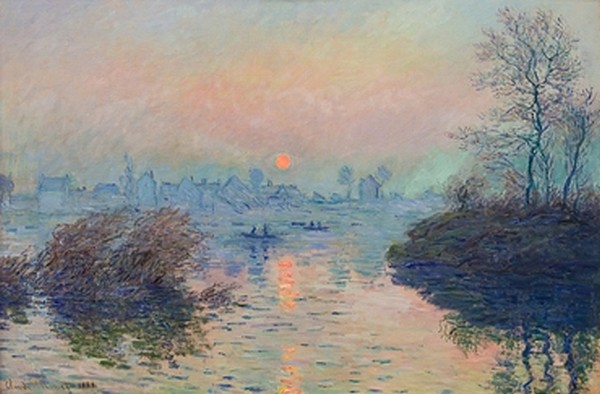 Posta de sol a Lavacourt - C. Monet
Tres anys llargs i seixanta-tres compositors després de la primera entrada, arriba a Liederabend la primera compositora. Benvolguts lectors, us presento l'Amy Beach.

Amy Marcey Cheney va néixer a Henniker, New Hampshire, el 1867. Pel que s'explica de la seva infantesa sembla prou clar que va ser una nena prodigi; vegeu, si no, aquesta anècdota. Segons explica la seva mare, quan la nena Amy tenia quatre anys va tornar de passar uns dies a casa dels seus avis dient: "he fet tres valsos". La senyora Cheney era una excel·lent cantant i pianista i estava ensenyant música a la seva filla, però allò li va semblar excessiu perquè a cals avis no hi havia piano. La nena li va respondre que els havia fet "al seu cap"; llavors es va asseure al piano i els va tocar. Pot ser que la mare exagerés una mica però, per poc certa que sigui la història, la capacitat d'abstracció de la nena és sorprenent.

Quan l'Amy tenia vuit anys, els seus professors de música van recomanar als seus pares que l'enviessin a estudiar a Europa perquè tenia molt de futur com a intèrpret; a Alemanya, o a França, podrien donar-li la millor formació. L'Amy, però, era molt petita i podem entendre que els seus pares no l'hi deixessin anar. També és cert que a més de petita era una nena; potser si hagués estat un nen sí hagués fet aquesta estada, o hi hagués anat de més gran. Tot i no enviar-la a Europa, els pares de l'Amy eren conscients del potencial de la seva filla i li van buscar els millors professors per tal que continués la seva formació, que es va centrar en la interpretació. Només va rebre classes de composició durant un any (perquè hauria d'estudiar composició una noia?) i després va continuar de forma autodidacta.

Però l'Amy va compondre, i força. La seva primera obra va ser una cançó, The Rainy Day, escrita quan tenia quinze anys, la mateixa edat que tenia quan va debutar professionalment com a pianista. Tres anys després es va casar amb en Henry Harris Aubrey Beach (sovint trobem la compositora referenciada com a Mrs H.H.A. Beach), un metge vint-i-quatre anys més gran que ella, i va deixar de tocar en públic; com ja hem comentat en altres ocasions, una senyora casada no treballava i encara menys pujava a un escenari. Tot s'ha de dir, el doctor Beach permetia que la seva dona toqués en públic de tant en tant, sempre i quan el concert tingués finalitat benèfica, i sempre la va encoratjar a compondre; algunes de les cançons de l'Amy estan escrites amb els seus poemes.

El 1910, quan l'Amy tenia 43 anys, el seu home va morir. Llavors ella va fer aquell viatge a Europa que tenia pendent, ara com a concertista, i amb molt d'èxit. Quan va tornar a casa tres anys després, es va dedicar per complet a la música, tant a la composició com a la interpretació, i es va convertir en la primera compositora rellevant dels Estats Units; es va retirar el 1940 i va morir el 1944. Va compondre una simfonia, un concert per a piano, una òpera, nombroses obres sacres, per a piano sol i de cambra i, el que ens interessa més a nosaltres, prop de cent cinquanta cançons.

A les seves cançons, com a les de la majoria dels seus contemporanis, hi ha una clara influència de compositors europeus però també hi sentim trets que identifiquem com a americans; en aquest sentit, Amy Beach s'inclou habitualment en el grup de compositors que van iniciar la cançó americana. Trobem cançons seves amb poemes de Goethe, Heine, Silvestre o Hugo però sobretot trobem cançons escrites a partir de poemes en anglès. He triat per compartit una que trobo especialment maca, Twilight (Capvespre), composta el 1887 a partir d'un poema del seu marit. No hi ha gaires enregistraments de les cançons d'Amy Beach, que ja no són tan populars com van ser en vida seva; he triat la versió interpretada per Patrick Mason i Joanne Polk. Espero que us agradi!
Twilight
No sun to warm
The darkening cloud of mist,
But everywhere
The steamy earth sends up
A veil of gray and damp
To kiss the green and tender leaves
And leave its cool imprint
In limpid pearls of dew.
The blackened trunks and boughs
In ghostly silhouette
Mark grimly in the coming eve
The shadows of the past. All sounds are stilled,
The birds have hushed themselves to rest
And night comes fast, to drop her pall
Till morn brings life to all.
Cap sol que escalfi
el núvol de boirina que es fa fosc,
sinó que pertot
la terra humida desprèn
un vel de gris i humitat
que besa les fulles verdes i tendres
i deixa la seva freda emprenta
en diàfanes perles de rosada.
Els troncs i branques enfosquits,
de silueta fantasmagòrica,
marquen amenaçadorament al vespre que arriba
les ombres del passat. Tots els sons s'han apaivagat,
els ocells han callat abans del descans
i la nit arriba ràpida, per deixar el seu vel fúnebre
fins que el matí porti la vida a tot.