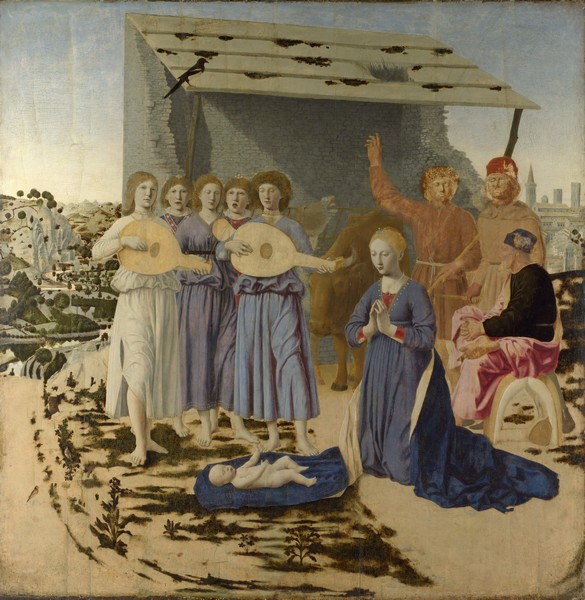 Nativitat - P. della Francesca
Hem arribat a la setmana de Nadal i, com és tradició a Liederabend, encetem una sèrie de tres entrades (breus, que prou enfeinats anem tots aquests dies) amb tres cançons que giren entorn les festes nadalenques.
Aquesta setmana escoltarem per primera vegada el compositor Derek Holman. Holman va néixer el 1931 a Cornualla, i la seva carrera va centrar-se en l'orgue, la direcció de cors i la docència. Primer a Anglaterra i després al Canadà, on es va establir el 1965 i on va morir fa tres anys, el 2019. Va compondre sobretot obres per a cor, però també una seixantena de cançons per a veu i piano, generalment estructurades en cicles. El 1986 va escriure The Centred Passion, sis cançons a partir de poemes de la col·lecció In Memoriam A.H.H d'Alfred Tennyson, una de les quals escoltarem avui.
El títol complet de la col·lecció de Lord Tennyson és In Memoriam A.H.H. obiit MDXXXIII. La va publicar el 1850 i les inicials corresponen a Arthur Henry Hallam, un jove estimat per tothom, brillant i prometedor poeta, que va morir sobtadament als vint-i-dos anys. El cicle que Tennyson va dedicar al seu amic està dividit en 131 cants (amb el pròleg i l'epíleg fan un total de 2916 versos), i ha inspirat nombrosos compositors de cançons; per exemple, fa uns anys escoltàvem Dark House, una de les cançons del cicle Three Tennyson songs de Jonathan Dove.
El cant XXVII comença amb les paraules The time draws near the birth of Christ; és el primer de tres poemes de Nadal, i és també la quarta cançó del cicle de Holman, que escoltarem interpretada per Gerald Finley i Stephan Ralls. Així com altres poemes entorn de Nadal parlen de la llum com a símbol de l'esperança renovada en aquestes dates, Tennyson ens parla aquí del so de les campanes, unes campanes que toquen per Nadal i tornen l'esperança a la veu poètica.
I tant és la forma que prenguin la il·lusió i l'esperança, oi? La qüestió és que hi siguin sempre. Bon Nadal!
The time draws near the birth of Christ
The time draws near the birth of Christ:
The moon is hid; the night is still;
The Christmas bells from hill to hill
Answer each other in the mist.
Four voices of four hamlets round,
From far and near, on mead and moor,
Swell out and fail, as if a door
Were shut between me and the sound:
Each voice four changes on the wind,
That now dilate, and now decrease,
Peace and goodwill, goodwill and peace,
Peace and goodwill, to all mankind.
This year I slept and woke with pain,
I almost wish'd no more to wake,
And that my hold on life would break
Before I heard those bells again:
But they my troubled spirit rule,
For they controll'd me when a boy;
They bring me sorrow touch'd with joy,
The merry merry bells of Yule.
S'acosta el temps del naixement de Crist:
La lluna està oculta; la nit és tranquil·la;
Les campanes de Nadal, de turó a turó,
es responen en mig de la boirina.
Quatre veus de quatre poblets,
de lluny i de prop, sobre prades i erms,
creixen i després es perden, com si una porta
es tanqués entre mi i el so.
Cada veu, quatre canvis al vent,
que ara s'expandeixen, ara disminueixen:
Pau i bona voluntat, bona voluntat i pau,
Pau i bona voluntat per a tota la humanitat.
Aquest any he dormit i m'he despertat amb dolor.
Gairebé hauria desitjat no despertar,
i que el meu vincle amb la vida s'hagués trencat,
abans de sentir aquestes campanes de nou.
Però elles guien el meu esperit atribolat,
com em regien quan era un noi;
em porten pena empeltada de joia,
les alegres, alegres campanes de Jule.
Articles relacionats