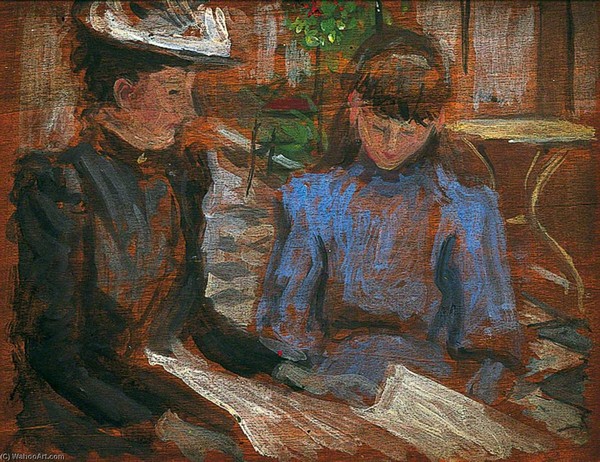 Mare i filla, Bologne, França - P.W. Steer
Després d'alguns concerts els anys 1848 i 1849, Johannes Brahms va deixar estar la carrera com a pianista solista per centrar-se en la composició; els anys següents s'hi va dedicar intensament i el 1853 va començar a publicar algunes de les seves obres. Les dues primeres van ser dues sonates, i la tercera, una col·lecció de sis lieder, el primer dels quals va tenir molt d'èxit. Un èxit que ha perdurat fins avui; Liebestreu [Amor fidel], op. 3/1 és una de les cançons més conegudes de Brahms.
El poema és de Robert Reinick, un nom que potser us és familiar amb relació a Robert Schumann; tots dos eren amics i trobem uns quants lieder amb poemes seus (entre ells el preciós Liebesbotschaft), a més del llibret de Genoveva. Brahms, en canvi, només va compondre dues cançons amb poemes de Reinick, totes dues escrites el gener de 1853, quan encara tenia dinou anys, i pocs mesos després que morís el poeta.
Les tres estrofes de Liebestreu ens presenten un diàleg entre una mare i una filla. No sabem exactament quin és el context, però la filla pateix mal d'amors i la mare pateix per la filla. A cada estrofa sentim primer la mare, que demana a la filla que oblidi aquest amor desgraciat, i després la filla, que s'hi nega. Si llegim el poema abans d'escoltar la cançó, ja ens adonem que la filla es manté serena en les seves respostes, mentre que la mare es mostra agitada; així ens ho transmeten les repeticions de determinades paraules a cada estrofa.
Aquests dos caràcters queden també ben diferenciats a la cançó. Per una banda, els dos versos de la mare repeteixen la mateixa melodia a cada estrofa, però el que a la primera és sehr langsam [molt lent], a la segona és poco più mosso [una mica més mogut], i a la tercera, agitato. La filla respon les dues primeres vegades träumerisch [com en un somni] i pianissimo; les seves frases són dolces i serenes i creen un contrast preciós amb les de la seva mare, tan amoïnada. Fins aquí, tot sembla indicar que la cançó serà estròfica. A l'última estrofa, però, la filla, potser perquè ha perdut la paciència, o perquè ja no es pot controlar, empra amb la mare el seu mateix to exaltat. Fins i tot canta més agut que ella, és el clímax de la cançó, fins que a la repetició de les últimes paraules del poema (una repetició que, en aquest cas, devem a Brahms), reprèn el seu caràcter calmat. Pel que fa al piano, la mà dreta manté la tensió amb tresets que es repeteixen durant tota la cançó, i és l'esquerra la que diferencia la mare i la filla: dobla la línia vocal de la filla, però s'avança a la de la mare.
Escolteu aquesta cançó magnífica de Brahms en una de les versions de referència, la que van enregistrar el 1983 Jessye Norman i Daniel Barenboim.
I, per acabar, voleu saber per què he tingut aquest lied ficat al cap les últimes setmanes? Per casualitat heu vist la sèrie The Defeated?
Liebestreu
»O versenk', o versenk' dein Leid,
mein Kind, in die See, in die tiefe See!«
Ein Stein wohl bleibt auf des Meeres Grund,
mein Leid kommt stets in die Höh'.
»Und die Lieb', die du im Herzen trägst,
brich sie ab, brich sie ab, mein Kind!«
Ob die Blum' auch stirbt, wenn man sie bricht,
treue Lieb' nicht so geschwind.
»Und die Treu', und die Treu',
's war nur ein Wort, in den Wind damit hinaus.«
O Mutter und splittert der Fels auch im Sturm,
Meine Treue, die hält ihn aus.
"Oh, enfonsa, oh enfonsa la teva pena,
fill meu, en el mar, en el mar profund!"
Una pedra bé roman al fons de l'oceà,
la meva pena, però, sura sempre a la superfície.
"I l'amor que portes al teu cor,
destrueix-lo, destrueix-lo, fill meu!"
Encara que la flor mor quan l'arrenques,
l'amor fidel no ho fa tant de pressa.
"I la fidelitat, la fidelitat,
és tan sols una paraula que s'emporta el vent."
Oh mare, encara que la roca s'esberli en la tempesta,
intacta roman la meva fidelitat.
(traducció de Salvador Pila)
Articles relacionats